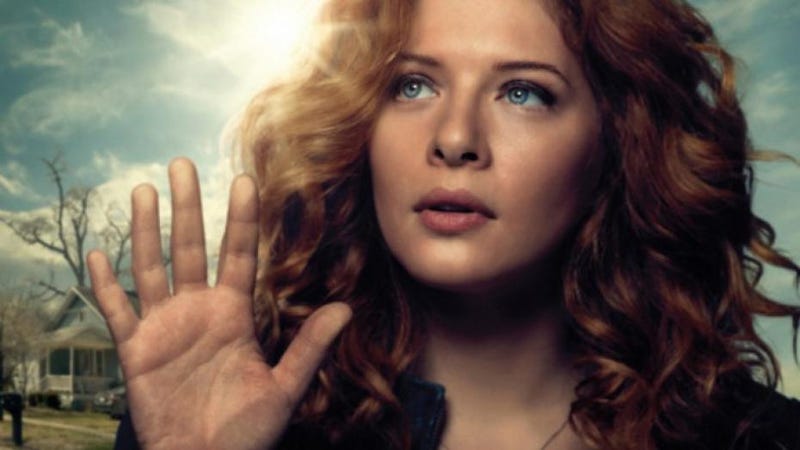 Hi, everybody! It's me, the Dome. I hope you enjoyed the first season of my show. I felt like I was able to wrap myself around a lot of important themes, including fascism and propane and stuff. The season finale aired the other day, and I thought I should share my thoughts about it. Spoilers ahead!
I was pretty busy in this final episode. First I made a butterfly hatch inside a tiny dome, and then I turned totally pitch black so there was a total eclipse of me. And then I crowned a Monarch! That was pretty awesome. Also, I had a lot of quality time with Junior. And finally, I sent a lesbian to drop some hints about my true purpose. And then I got super super bright, like crystal-skull bright.
It was a good week to be a mysterious spooky dome.
Let's take these things one by one. First off, the butterfly thing. So there's a miniature version of me, with the power to turn a barn into a pink sparkle rave with lots of stars and twinkles and things. And in the middle of that mini-me, there's an egg, which is all sparkly and is a power source. And a coccoon, with a monarch butterfly inside. Because I'm looking for the Monarch, who's a super-important leader person, and mysterious impenetrable domes really like wordplay.
Anyway, the monarch butterfly hatches, but it's trapped inside the mini-dome because that's where it hatched. And every time it bumps against the mini-me, trying to flutter its way to freedom, the poor little guy makes a black splotch against the dome — and I start getting these black splotches, too. Until I'm totally blacked out. Which is basically a different kind of rave, I guess.
And meanwhile, Junior is pressing his hands against me and closing his eyes and making kissy pouty faces at me. He wants to know why I told him and the other kids to stab his father, Big Jim. Possible reasons: 1) I'm allergic to propane. 2) I don't want people to die (which is why I sent all that rain a while back) and Big Jim is killing lots of people. 3) I trapped all these people because I was hoping they would establish a socialist utopia, not a fascist dictatorship. Meanwhile, Big Jim is mad because Barbie didn't take the fall for all of Big Jim's crimes, in spite of Big Jim's incredibly inept blackmail attempt.
Anyway, I don't explain anything to Junior, because being opaque is one of the main pleasures in a Dome's existence. (That, and hanging out with Pauly Shore.)
Then Sheriff Linda tries to touch the mini-me, and gets shocked into unconsciousness. This allows the wonder kids to move the dome, the egg and the butterfly to a new hidden location, from Ben the skater's house to the abandoned cement factory.There, they use the walkie-talkies to let Angie know how to find them, without tipping off Big Jim and Linda.
So meanwhile, Julia Shumway wakes up from her coma, after being shot several episodes ago, and she's pretty much instantly healed from her life-threatening gunshot wound. Within about 15 minutes, she's doing can-can dancing. This is probably my doing, actually — I decided to boost Julia's healing factor, because that's one of my powers. It's probably something to do with acoustics, right?
In any case, Julia and Angie rescue Barbie, and they all go to the cement factory, where Junior tries to put Barbie under arrest. But while they're debating whether Barbie or Maxine shot Julia, the mini-dome gets red handprints on it, which is its passive-aggressive way of saying that it wants to be touched. When all four Wonder Kids touch the mini-dome, it glows and then shatters, revealing the egg and the butterfly.
At first the butterfly appears to be dead, but when one of the Wonder Kids touches it, it comes back to life, and then it lands on Barbie. Does this mean he's the Monarch? Nah, I'm just fucking with you guys. Actually, it's Julia — as is revealed when the egg gets all glowy, and she picks it up. And the butterfly lands on her, after all.
Shut up, this all makes sense. It's so logical, the script even has Barbie point out how logical it is that I pick a new leader "using insects." It's the best system of government we have, and at least there are no butterfly ballots. Just butterflies.
Several episodes back, I sent a psychic projection to tell Julia "The Monarch will be crowned." Why couldn't it have just said "You will be crowned"? Again, opaqueness, pleasure.
Meanwhile, a ton of people are at a church, because my eclipse makes them think it's the End Times. "It's all happening, just like Revelations said it would" — even though shouldn't there be horsemen and the antichrist and the Mark of the Beast and people being forced to be bi? So Big Jim decides to tell people that he's their new reverend, or something, because he's already the new mayor and the police captain and everything else.