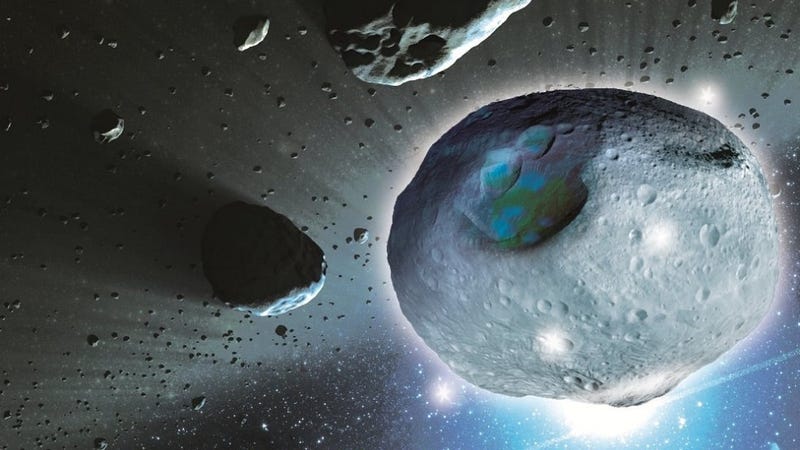 July is ablaze with great stories. There's a ton of awesome books hitting the shelves this month, many of which make the greatest possible reads for your roadtrip to San Diego Comic-Con (or Worldcon.) Here are a dozen must-read books coming out this month!
Top image: Evening's Empires
Evening's Empires by Paul McAuley (Gollancz)
The author of The Quiet War is back to blow your mind with another amazing space adventure. This time it's the classic tale of someone who's been done wrong, and is seeking revenge. Except that it's a guy named Hari who's lost his family and his spaceship — the only home he's ever known — and now he wants to get everything back, in a galaxy full of betrayers.
Kill City Blues: A Sandman Slim Novel by Richard Kadrey (Harper Voyager)
The latest book in the Sandman Slim series — how do you top a book in which Stark became the ruler of Hell and then renounced his title? Maybe with one in which he's coping with the banished Old Gods, who are seeking a powerful weapon that Stark accidentally lost track of. And of course, all of the massive supernatural action takes place at a run-down shopping mall.
Midst Toil and Tribulation (Safehold) by David Weber (Tor)
The creator of Honor Harrington continues his Safehold series about religious war in the far future, in deep space — as the warrior monk Merlin Athrawes continues his plan to resurrect the human race. The island Kingdom of Charis struggles to remain intact in the face of a rebellion sparked by the Church of God Awaiting, and meanwhile there are lots of secrets to be revealed.
Missing Links and Secret Histories: A Selection of Wikipedia Entries from Across the Known Multiverse by L. Timmel-Duchamp (Aqueduct)
As its name suggests, this is an anthology of weird short stories by authors like Nisi Shawl, Anna Tambour, Lusy Sussex, Mark Rich and others — about fictional and surreal characters from history who deserve their own Wikipedia entries. Including the real-life person who supposedly inspired Poe's "Fall of the House of Usher." And the secret relationship between H.G. Wells' Dr. Moreau and Joseph Conrad's Col. Kurtz.
Neptune's Brood by Charles Stross (Ace)
This is a followup of sorts to Stross' Saturn's Children — another strange space opera. And this time it's the story of the first ever interstellar banking fraud, in which a pirate discovers that two sisters each possess half of a famed lost financial instrument of incalculable value and the power to bring down civilizations. Paul Krugman calls it "the best thing written" on interstellar finance.
New Earth (The Grand Tour) by Ben Bova (Tor)
Bova continues his Grand Tour series with the story of an Earthlike planet that's discovered and the crew that takes the 80-year journey to go investigate it. The planet turns out to be not just similar to Earth, but uncannily like Earth, even down to human-appearing inhabitants. To the point where the explorers start to wonder if it's actually a natural phenomenon at all...
North American Lake Monsters: Stories by Nathan Ballingrud (Small Beer)
The acclaimed short story author puts out a collection of strange, jarring tales. "The Way Station" puts a fantastical spin on the story of an alcoholic man who lives through Hurrican Katrina. His story "The Monsters of Heaven" won the Shirley Jackson Award, and you can read it here. These are lonely, intense stories about love and monsters, with working class protagonists looking for a way out.
The Age of Ice by J. M. Sidorova (Scribner)
This bizarre historical novel involves a Russian empress who builds a palace out of ice blocks and forces a disgraced nobleman and a deformed female jester to "marry" there, giving birth to two princes — one of whom discovers later that he's immune to cold. The story of Prince Alexander spans two centuries and three continents, and includes a ton of famous historical figures. Read our exclusive excerpt from it here.