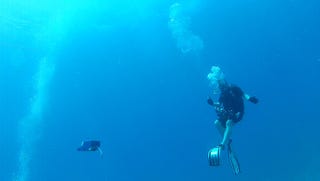 In late autumn, I walked through drifts of crunchy leaves in Berkeley's warehouse district to find a strange lab on the shores of San Francisco Bay. Inside, on a work bench surrounded by tidy coils of wire and electrical tape, two geeks were building the next robot revolution. But there were no Google-esque dog armies nor sentient AIs in sight — nor in their business plan. Instead, they showed me the future on a laptop connected to a fat cable that snaked into a large tank of water.
Photo via FastCo
At the other end of the cable was the OpenROV, or remotely operated underwater vehicle, about the size of a shoe box and made from bright blue plastic. On the laptop monitor, I could see the curving walls of the water tank, streaming from a camera tucked safely inside the robot's transparent, tube-shaped electronics chassis. Driving it in gentle circles through the water was Eric Stackpole, a former Small Spacecraft Division engineer for NASA whose eyes light up when he talks about electrical components. David Lang, Stackpole's business parter, showed me how OpenROV is controlled from a simple web interface.
Just that weekend, Lang said, they'd used the OpenROV to film a shipwreck at the bottom of Lake Tahoe. They dropped the robot in, allowed the neutrally-buoyant device to sink, and flew across the lake bottom until they found a small, algae-covered boat. In the video below, you can see what it was like when they drove the rover inside and illuminated the long-lost interior of the craft, full of sand and startled schools of fish.
Think of it as a scaled-down version of the expeditions that scientists do with robot submersibles to explore the ocean's unknown depths. But unlike a research robot, the OpenROV can be built by hobbyists from a kit that Lang and Stackpole sell from their website for 849 dollars. And anyone can operate it, as long as they fly a "diver down" flag on the surface of the water to warn boaters.