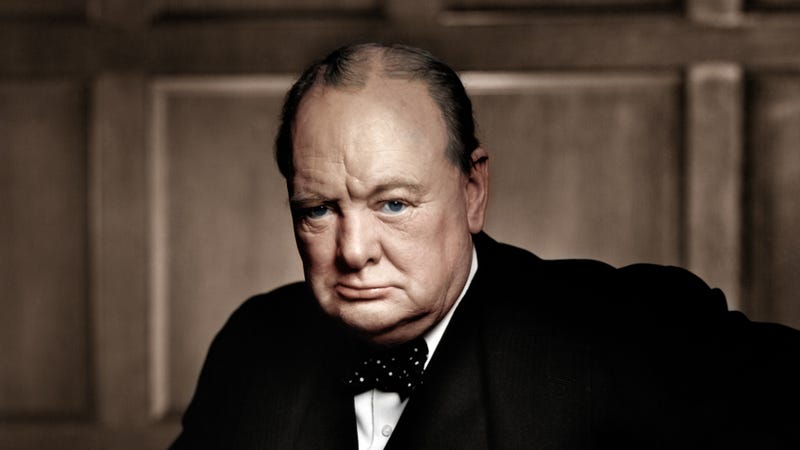 Though primarily known as a statesman, Winston Churchill was also a very capable futurist and inventor. From the rise of Nazi Germany and the Iron Curtain to the advent of tanks, the atom bomb and synthetic biology, here are some of Churchill's most incredible predictions and inventions.
Top image: A colorized image of Winston Churchill's iconic portrait (credit: Zuzah)
In addition to being a politician and army officer, Churchill was a historian, a writer, and an artist. And in fact, he's the only British Prime Minister to have ever won the Nobel Prize in Literature.
The Fruits of Accelerating Change
But he was also keenly aware of the impact that technological progress was having on nations and individuals. He witnessed the rapid evolution of technology during the Great War and saw how it could change the very course of history. What's more, he understood something that futurist Ray Kurzweil would later call the Law of Accelerating Returns — the realization that technological developments are cumulative, a force that leads to rapid progress.
(Credit: Kurzweil)
Writing in his 1931 essay, "Fifty Years Hence" — and pre-dating Kurzweil by 70 years — Churchill recognized accelerating change when he wrote:
Each invention acted and reacted on other inventions, and with ever-growing rapidity that vast structure of technical achievement was raised which separates the civilization of today from all that the past has known.

There is no doubt that this evolution will continue at an increasing rate. We know enough to be sure that the scientific achievements of the next fifty years will be far greater, more rapid and more surprising, than those we have already experienced...But this is only a beginning. High authorities tell us that new sources of power, vastly more important than any we yet know, will surely be discovered.
With this in mind, Churchill went on to predict such things as compact engines, materials 30 times stronger than steel, and wireless telephones and televisions that would "enable their owner to connect up with any room similarly installed, and hear and take part in the conversation as well as if he put his head in through the window." He predicted synthetic biology, claiming that "new strains of microbes will be developed and made to do a great deal of our chemistry for us."
Remarkably, Churchill also foresaw lab grown meat. He said that "we shall escape the absurdity of growing a whole chicken in order to eat the breast or wing by growing these parts separately under a suitable medium." This particular prediction was equal parts wish-fulfilment, a desire for on-demand food that arose from his experience during the Great War when Germany tried to starve the British Isles into submission.
Churchill also predicted genetic engineering, clones, and artificial wombs. Here's a long quote from his "Fifty Years Hence" piece, one that's incredibly fascinating in its prescience: