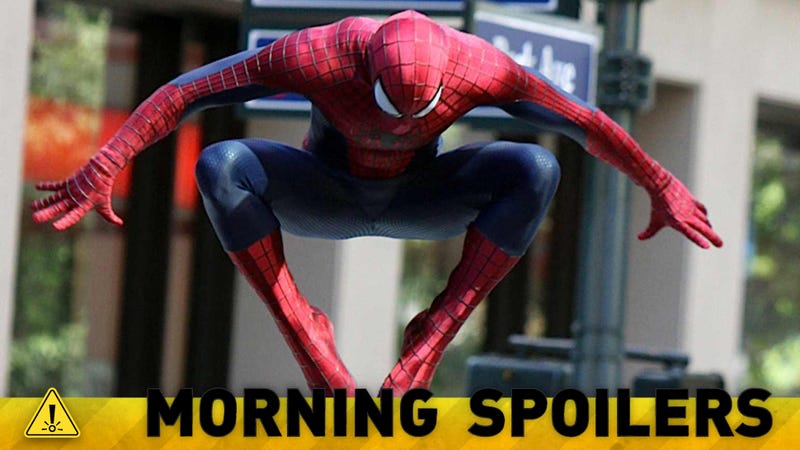 Marc Webb reveals how important Paul Giamatti's Rhino will be to The Amazing Spider-Man 2. There are some hints for Transformers 4, Thor 2, and G.I. Joe 3. Brad Bird's Tomorrowland finds its female lead. Another Robert Kirkman comic is becoming a TV series. Plus a ton of cool posters. Spoilers ahead!

Top image: Amazing Spider-Man 2, via Fan-Girl.org.
The Wolverine
Watch the Wired interview with Hugh Jackman:
---
Amazing Spider-Man 2
Director Marc Webb has given a few details about the role Paul Giamatti's Rhino will play, given that Electro is taking center stage in all of the press so far:
Electro is the main villain. Rhino sort of makes a teasing appearance in the film in a very calculated and careful way, but the main villain in this movie is Electro and you get a real sense of the power and magnitude of that villain... Rhino is in a couple scenes, you know, so he's a really terrifying and a fun villain, but Electro is our main foe.
More at the link. [Superhero Hype]
Shailene Woodley discussed the cutting of Mary Jane from the film and revealed what her part would have looked like. She said that she did get to say the line: "Face it, Tiger, you just hit the jackpot." She also explained that she had only filmed a few scenes, and that she thinks not having Mary Jane in the movie makes sense:
She was only going to be in four scenes. I think it's really incredibly smart that she's not in it, looking back at it now because they're introducing so many characters and MJ is such a vital character that it makes sense to hold off for future movies to introduce her.
[Empire]
---
Transformers 4
The movie decided not to film at the retired Coast Guard ship the Cutter Bramble. However, some interesting details were revealed by Robert Klinger, the owner of the Bramble:
The ship itself would emulate the exact look they wanted, a Russian waterfront, dark, mysterious underworld environment. We more or less auditioned for the part at their request. [. . .] The Bramble has the look. It looks very industrial and very busy. It had a really, really good chance.
In what looks like her first interview about the movie, actress Sophia Myles spoke with The Belfast Telegraph about her work on the film.
We've been on it for a couple of months now. It's so exciting and so thrilling. I love working with the whole cast and Michael Bay is just an incredible director. I feel so privileged, I'm still pinching myself.
She also revealed that her character will be interacting a lot with Stanley Tucci's. [The Belfast Telegraph]
---
Edge of Tomorrow
Emily Blunt's Rita Vritaski, a soldier Tom Cruise's character meets while reliving the same day fighting aliens, now has her own poster. [First Showing]
---
Thor: The Dark World
In the video, Zachary Levi discusses his role as Fandral in the Thor sequel as well as his plans for a Chuck movie. [TV Line]
---
Tomorrowland
Brad Bird's feature about a famous part of Disneyland and "a supposed alternate dimension," already has George Clooney starring and High Laurie as the villain, but the female lead was just announced to be Britt Robertson (Under the Dome). Robertson will play a high schooler wiyh an "unconventional understanding of technology who's launched on a journey to reclaim her future." [First Showing]
---
Ender's Game
Director Gavin Hood spoke about the relationship between the young actors and the adult actors and how that chemistry played into the film:
What's interesting [is] the adults really wanted to support the kids. They were very generous, kind, and patient. The kids felt slightly intimidated by Ben Kingsley and Harrison Ford, which is exactly right for Graff and Ender. I mean, "My God, I'm working with Harrison Ford and dealing with Colonel Graff!" is the same kind of stress, right?
More at the link. [Film School Rejects]
---
Dawn of the Planet of the Apes

Here's a viral campaign video warning about the dangerous spread of "Simian Flu:"
---
300: Rise of an Empire
And the very last of the character posters. [Coming Soon]
---
Fright Night 2
Jaime Murray gave some details about the plot of the sequel.
The kids go to Romania and here we kind of look at the story of Elizabeth Bathory as inspiration. She may have been what the original vampire myth was based on. I just needed the blood of virgins. I play the Colin Farrell character and obviously he's a man and Charlie is a man so they're not going to "go there," but the fact I'm a woman throws off a different dynamic. Charlie's a teenage boy and my Gerri is a charismatic, charming, sexual woman - but there's also something disturbing about her, so that's fun to play with. There's a cat and mouse power exchange. Women also have different abuses.
---
G.I. Joe 3
Jon M. Chu talked about what he loves about the series and the chances that the next one will see the return of older characters.
There's definitely a possibility that we'll get Scarlet back. I think there's a lot of characters that we can get back. The G.I. Joe world is a large world and we're with one section of it. In mind it was never "Oh we're getting rid of everyone and that's that!" This is another part of the universe and I'm sure we'll get her back. She has some of the most interesting storylines, especially with Snake Eyes.

The reason I love G.I. Joe is because it goes everywhere and it stretches and it pulls. There's never been a mythology like that hefore where it mixes military, ninjas, androids, and crazy political things between the Cobra. I just love that. All the doors are open for us. We started with the foundation of G.I. Joe Retaliation to clear the slate, to get to where this world lives and we have ninjas flying next to military guys. Now we can take the next step, now we can go on an adventure somewhere else and we can just keep building until you are literally like "What the hell is going on here?
---
Seventh Son
This Comic-Con poster features an extreme close-up of Jeff Bridges. [ComingSoon]
---
Supernatural
Details are few and far between, but it looks like episode 20 of the next season will introduce a brand new character, and act as a backdoor pilot for a spinoff. [TV Line]
---
Doctor Who
In the wake of the promo at Comic-Con, the first promo image of the Daleks in the 50th anniversary special has been released. [Life, Doctor Who, and Combom]