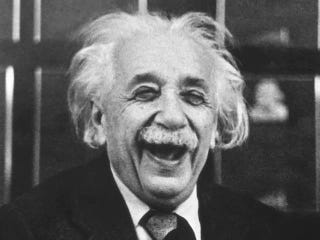 According to legend, Albert Einstein changed his mind about the static state of the universe in 1931 after astronomer Edwin Hubble showed him evidence that the universe was expanding. A recent paper shows this is a myth — and that Einstein needed a lot more to change his mind.
The traditional story is that Hubble's observations of redshift in the light emitted by far away nebulae (or galaxies as we now call them) was what contributed to Einstein's change of heart. But according to science historian Harry Nussbaumer from the Institute of Astronomy at ETH Zurich, Switzerland, Einstein stubbornly refused to reject the static interpretation of the universe until his model could be proven unstable. He wasn't swayed by the observational data alone.
Back in 1917, Einstein launched modern cosmology by describing the universe as a homogenous, static, and spatially curved universe. The theory, which was based on general relativity, introduced the idea of the cosmological constant — a necessary requirement to counteract gravitational contraction (without it, the universe would just collapse in on itself).