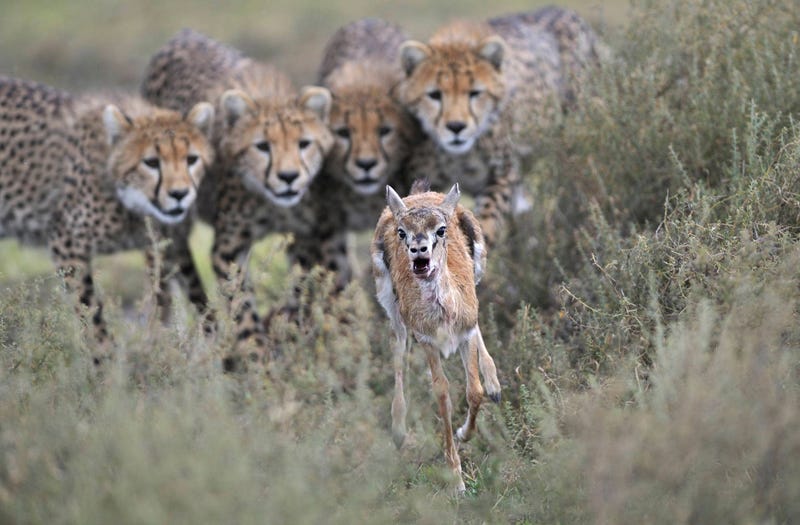 Should animals be permitted to hunt and kill other animals? Some futurists believe that humans should intervene, and solve the "problem" of predator vs. prey once and for all. We talked to the man who wants to use radical ecoengineering to put an end to the carnage.
A world without predators certainly sounds extreme, and it is. But British philosopher David Pearce can't imagine a future in which animals continue to be trapped in the never-ending cycle of blind Darwinian processes. It's up to us, he argues, to put our brains, our technologies, and our sense of compassion to good use, and do something about it. It's part of his overarching Hedonistic Imperative, a far-sighted "abolitionist project" set with the goal of achieving nothing less than the elimination of all suffering on the planet. And by all suffering, he means all suffering.
No doubt, when I think about the state of our species and our planet tens of thousands of years from now, it's hard for me to accept the notion that nature and all that's within it remains the same while we venture out into the next state of our existence. Ignoring the plight of other animals seems both selfish and irresponsible, particularly if we have the means to do something about it; the suggestion that we should consciously and compassionately reboot the Earth's biosphere is as futuristic a proposition as it gets — but one we should contemplate very seriously.
And we're already starting to think along these lines. Owing to the advent of gene-editing techniques like CRISPR-Cas9, scientists are proposing that we edit the genes of wild animals on the fly. We would do so en masse by engaging in "gene drives" where preferential genes would be driven through wild populations of animals. The end result would be the emergence of "new" species more to our liking. Today, there are already proposals to reduce malarial mosquitoes using this very technique.