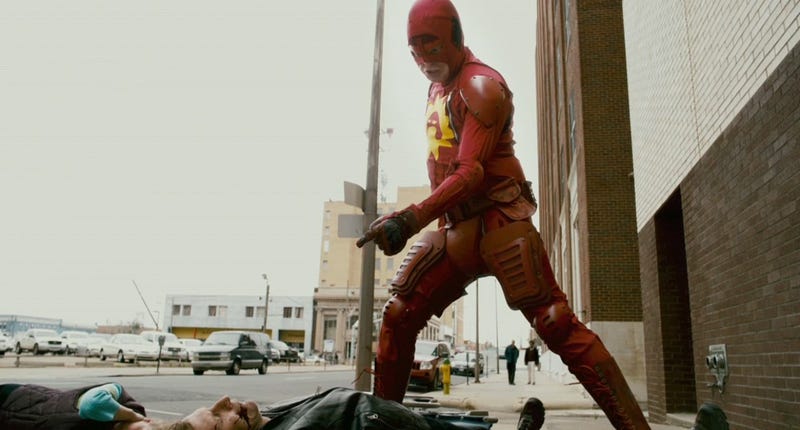 Now that Deadpool has become a monster hit, there are a billion articles about how ground-breaking this R-rated, raunchy, fourth-wall-smashing superhero movie really is. And no mistake, Deadpool is hilarious. But there's one film, starring an insane hero in a red suit, that never gets enough credit for how far it pushed the superhero genre: Super, written and directed by James Gunn.
Actually, as I pointed out in my review of Deadpool, there have been plenty of over-the-top, R-rated comic-book movies in the past decade. Deadpool owes a lot, stylistically and otherwise, to films like Wanted, Kick-Ass and Kingsman. One of the main ways that Deadpool feels so fresh is because it takes the stylized violence and insane humor of those other films, and puts them into the X-Men universe. Which is, to be sure, a big deal.

But James Gunn himself took to Facebook yesterday to rant, after an unnamed Hollywood executive said Deadpool's self-deprecating tone had "never been done before." And that Marvel would "rather stab themselves" than make fun of themselves in a movie. Gunn responded, "Let's ignore Guardians [of the Galaxy] for a moment, a movie that survives from moment to moment building itself up and cutting itself down—God knows I'm biased about that one. But what do you think Favreau and Downey did in Iron Man? What the fuck was Ant-Man??!"
And of course, Gunn (who directed Guardians) is right. I don't even know where this perception that Marvel is humorless, or some kind of dull assembly line, comes from.
But my main reaction to Gunn's comments was to wonder why he didn't bring up Super—a film which actually does lay a ton of groundwork for movies like Deadpool. Sure, Super was not a huge box office megahit or anything, and it probably slid so far under the radar that it traveled through the Earth's crust. But if you wanna talk about movies that push the superhero genre past its limits, then Super ought to be your touchstone.