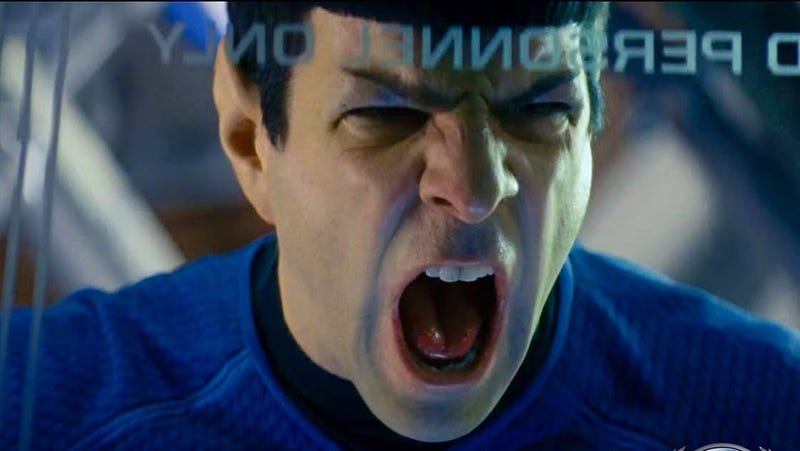 Geeky pop culture sometimes feels like a collection of cool stuff: "Hero" moments and "holy shit did you see that" images. And sometimes it feels like the people who update our most beloved stories want to include those moments — without doing anything to set them up properly. The premature nerdgasm is a serious problem.
I've been thinking about this a lot since San Diego Comic-Con — every year, we go and see glimpses of upcoming movies and TV shows, and every year we're hit with glimpses that prove that a movie will include our favorite moment from the source material. But then you see the actual movie in question, and the cool moment totally doesn't work because we didn't see all the stuff that leads up to it and sets it up.
And this feels like it's becoming a bigger problem, as creators throw in the one moment they know fans love, but they don't build up to it properly at all.
For example, Star Trek II: The Wrath of Khan contains a couple of iconic moments: one where somebody looks up and yells "Khaaaaaaaaaaaaan," and one where someone sacrifices his life inside a radiation chamber and talks about the needs of the many. Those moments only work because of the long history between Kirk and Khan, and because of the 15+ years of friendship between Kirk and Spock. You can't just jump to those moments out of nowhere and expect them to have the same oomph.
Likewise, the notion of doing some version of the big Superman-Batman confrontation at the end of The Dark Knight Returns — which is what Zack Snyder and Harry Lennix were basically teasing at Comic-Con — is pointless unless that fight comes at the end of a long history between Superman and Batman. There's a lot of subtext going on in that fight, about Superman and Batman being former friends who've drifted apart because Superman became a tool of the man while Batman went underground. The reason why Batman's speech, which Lennix read aloud, is so powerful is because it's a man putting down his former best friend of many years. It's not a particularly great speech in itself, otherwise.