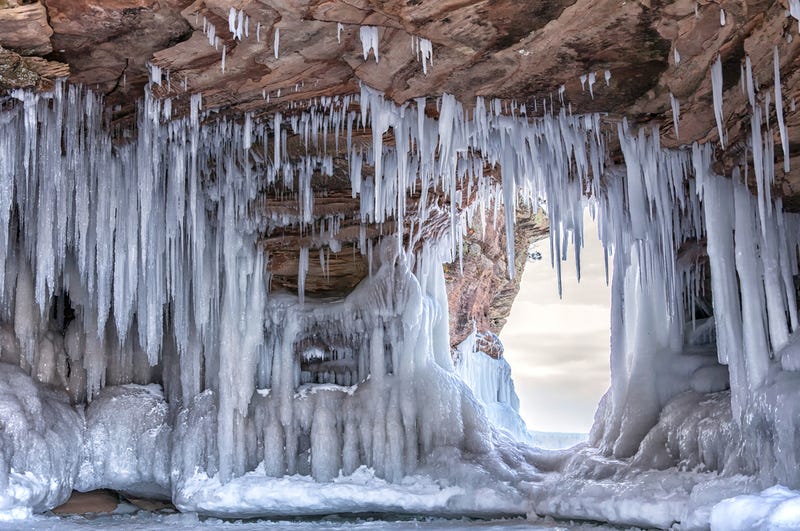 Our planet has been witness to plenty of strange weather happenings recently, from devastating floods to the polar vortex. These events are providing a glimpse of what it was like during the pre-Holocene era — a time of volatility and destruction. But it could also be a demonstration of where climate change is taking us.
Top image: Apostle Island Ice Caves on the shores of Lake Superior during the 2013 polar vortex. Credit: Critterbiz/Shutterstock.
A string of events earlier this year provided a sobering snapshot of a global climate system out of whack. Europe suffered devastating floods, Britain's coastline was mauled, and the polar vortex cast a US$5 billion economic chill over America. Meanwhile, an abnormally mild winter in Scandinavia disrupted bears' hibernation, while Australia was ravaged by fires and record-breaking heat.
These happenings give us an idea of what life must have been like in the lead-up to the Holocene Epoch, living on the brink of seismic change, amid a series of abrupt climate shifts.
As the archaeologist Steven Mithen wrote in his book After the Ice:
People were thin on the ground and struggling with a deteriorating climate … massive ice sheets had expanded across much of North America, Northern Europe and Asia. The planet was inundated by drought, sea level had fallen to expose vast and often barren coastal plains. Human communities survived the harshest conditions by retreating to refugia where firewood and foodstuffs could still be found.
Since then, we have been lulled into a false sense of security by the ensuing 10,000-odd years of peaceful, stable climate during the Holocene itself. This has allowed us to tame crops and livestock, and to come together to form communities, villages and, ultimately, cities.
But the calm and tranquil Holocene has now been replaced by the Anthropocene – heralding a return to a volatile and destructive climate. Truly, we have woken an angry beast from its slumber.