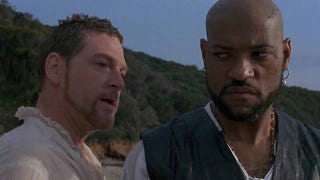 Ever heard of Othello error? It's the unfortunate mindset that leads questioners to believe people are lying, even when they're telling the truth. It can cause them to use understandable coincidences as damning evidence, and getting rid of it can make us better at judging honesty.
The innocent, but incriminating, coincidence is a staple of comedy. The heroine picks up a purse that's nearly identical to her own, and finds she's stolen her future mother-in-law's wallet. A hero hesitates to tell his boss he was at a proctology appointment because the woman he has a crush on is in the room, and gets so flushed and red-faced that the boss figures he must be guilty of something. The audience laughs because we've all been stuck in circumstances that make us look guilty when we're not, and then gotten so flustered during our explanations that we look even more guilty. Usually these circumstances are, at least in retrospect, comic.
This kind of misunderstanding can also have dark results, as we see in dramatic works like Othello. Desdemona is the victim of villainous interference rather than mere coincidence, but her increasingly frantic attempts to correct the situation only make her look more guilty. She looks guilty because Othello suspects she's guilty. Once he starts looking at everything she does with suspicion, everything she does is suspicious.
It's this dark side of this misunderstanding that lends its name to the Othello error. The error was studied most extensively after 9/11, when airport officials were on high alert and looking for suspicious individuals. Racial profiling was common, and the Othello error added to false positives—and let slip false negatives. Once officials suspected a person and started questioning them, any coincidental event—like lack of luggage or an odd destination—was seen as corroborating evidence. If there was no evidence, any sign of nervousness or anger from the suspect was evidence in itself. The fact that there were innocent explanations for suspicious details, and that anger and nervousness are a common response to questioning, didn't weigh in against the initial feeling of suspicion.
Suspicion, in general, is a tough thing to shake. When we suspect something, generally the results are worse for us if we're right than if we're wrong, so we're prone to err on the side of caution for us, and danger for other people. There's also nothing like personal suspicion for people to engage the confirmation bias.