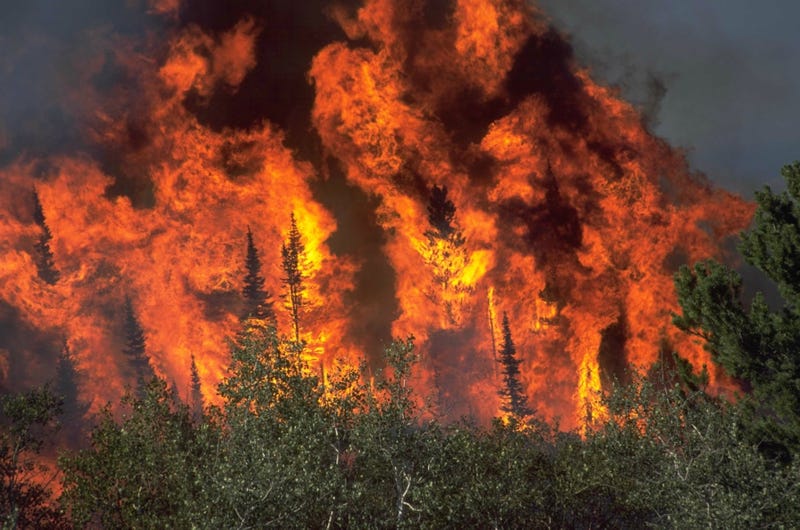 One of the staples of time travel stories is the idea that our heroes will visit earlier geological periods in Earth's history. Of course — because they'll want to see dinosaurs with ostrich feathers and giant millipedes. But they generally forget something very important about Earth's past.
If you're going back more than 30 million years, you'll probably need to bring an atmosphere suit.
Photo via AP/Jon Tunney
As you've probably heard, the Earth's atmosphere can change a lot in a pretty short period of time. Since the mid-eighteenth century, levels of carbon dioxide have risen substantially in the Earth's atmosphere, from 280 parts per million (ppm) to 395 — the result of industrial processes that have released tons of carbon into the environment. And in previous eras, the fluctuations have been much greater than that.
Considering that the Earth is about 4.5 billion years old, you'd expect there would be a lot of times to visit. The problem? Your body is most comfortable with today's atmospheric concentration of oxygen, which makes up about 21 percent of the gasses in our atmosphere. Unfortunately, for most of those 4.5 billion years the Earth has been around, the air had no oxygen in it at all. In fact, if you wanted to visit Earth any time before the past half-billion years, you'd going to need serious breathing equipment.
Hell Planet: 2.7 Billion Years Ago
For most of its lifetime, the Earth's atmosphere contained no oxygen. Methane rained from the skies, and the thick, cloudy atmosphere smelled like rotten eggs and farts. Carbon dioxide was at levels 10 to 200 times greater than today. Plus the sun was much younger back then, and was radiating at only at about 70 percent of its current brightness. The only way the planet stayed warm was by bathing itself in these greenhouse gases, which kept the place from freezing despite the dim sun.
Despite the horrific atmospheric conditions, life had already begun. Roughly 2.7 to 2.5 billion years ago, single-celled organisms called cyanobacteria figured out how to split water molecules (which are made up of two hydrogen atoms and one oxygen atom, hence H2O) and create free oxygen. These life forms had created photosynthesis, and they spread across the Earth in vast, algal mats, floating on the oceans and burping out oxygen. There's a sight any time traveler ought to see. Eventually, these cyanobacteria created so much oxygen that the air was rich with it — though it did take about a billion years.
Here's the problem for visitors going back to these incredible early times in our planet's history. Without oxygen, you would die almost instantly. Methane isn't itself toxic, but it is suffocating. CO2, however, can be toxic. So if you didn't die of atmospheric poisoning, you'll still find yourself unable to breathe. Definitely wear your SCUBA gear.
Monsters and Suffocation: 550 Million Years Ago
Things started to look up, oxygen-wise, about 600 million years ago. Thanks to all those cyanobacteria, oxygen levels were rising rapidly. More free oxygen in the environment meant that multi-cellular animals could burn energy more efficiently — and so they evolved in greater numbers. Suddenly, animals were everywhere. The oceans were packed with insane creatures like Anomalocaris, with its protruding eyes and spiny mandibles, along with worms, trilobites, and more.