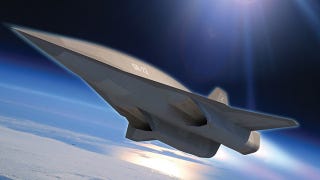 Security and intelligence expert P. W. Singer has penned a fascinating article outlining the various ways leaders must prepare for the "chaotic battlefields of the future." Looking at the latest developments, they're going to have to anticipate a whole new way of making war.
Above: A conceptual image of the Lockheed Martin SR-72, a hypersonic aircraft that will be fly at mach 6, be capable of carrying weapons — and will be able to attack from the edge of space. Credit: Lockheed Martin/Aviation Weekly.
Singer makes the case that the United States is currently in a position occupied by Great Britain at the dawn of World War I: Empires on the decline. America is becoming a "status quo power," one that's overextended, budget strapped, and forced to anticipate the potential for crazy-futuristic new technologies and weapons.
There's the networked battlefield to consider, one that will include autonomous robotics, directed energy systems (what you and I call lasers), and of course, enhanced humans.