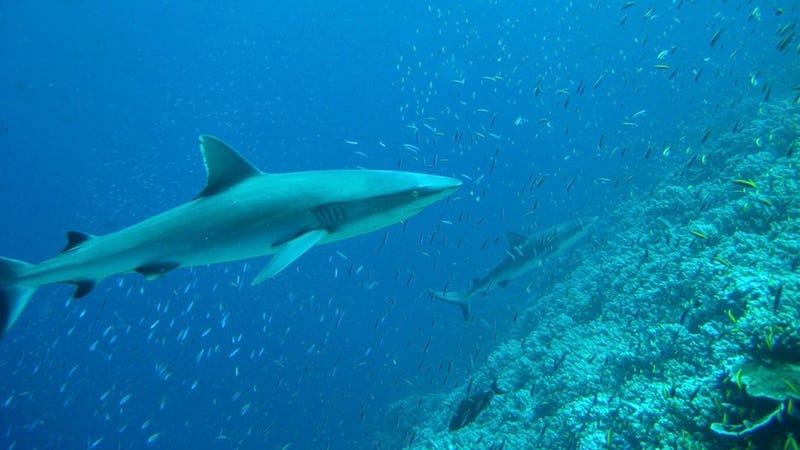 You've probably heard that killing apex predators is bad for ecosystems. But how does that really work? Now we know. The story begins with a lot of dead sharks.
For years, scientists have been trying to establish how sharks — being top predators — affect animals at the bottom of the food chain, such as corals. But they've had limited success, said Jonathan Ruppert, a marine ecologist at the University of Toronto.
Previous research has suggested that when you increase the population of people on islands surrounded by coral reefs, you see multiple impacts on aquatic habitats, including a reduction in sharks and a decline in coral reefs. However, researchers weren't able to connect the loss of sharks with the loss of the reef.
After hearing about the research and speaking with shark experts, Ruppert learned that scientists also haven't been able to pinpoint a well-defined role for sharks in the ecosystem. "It's all well and good to say they must be important, but we haven't actually quantified why," he told io9.
So Ruppert and his colleagues decided to find out if the overfishing of sharks affects coral reefs (a top-down effect), and how this relates to bottom-up effects, such as when coral reefs experience large die-offs that affect the populations of fish that survive off the reefs.
Revealing the Shark-Coral Relationship
Using data from a decade-long monitoring program, the team compared the populations of various types of fish from two atoll-like reefs off the coast of northwestern Australia: the Rowley Shoals and the Scott Reefs. The Rowley Shoals are part of a marine protected area, where no fishing is allowed. The Scott Reefs, on the other hand, lie within the "Australian-Indonesian Memorandum of Understanding Box 74" — a 50,000 square km (19,300 square mile) area where Indonesian fisherman are allowed to harvest fish using traditional techniques.
Though traditional, the fisherman's methods are very effective. Worse yet — they often harvest sharks just for their fins. "I have videos of men on these boats, which are just glorified rafts," Ruppert said. "There's no refrigeration to store fish protein for any length of time — they're not removing other fish and they're not taking back most of the body of the shark."