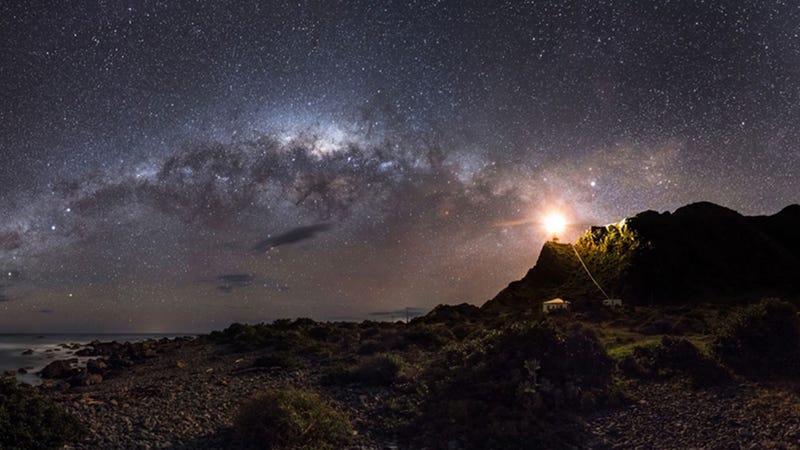 There were thousands of entries this year to the Royal Observatory Greenwich's Astronomy Photographer of the Year 2013 competition. These awe inspiring images are the best of the bunch.
Top image: The overall winner: "Guiding Light to the Stars" by Mark Gee (Australia). It shows a spectacular view of the Milky Way arching over the coast of the North Island of New Zealand. The bright light you see is from the Cape Palliser Lighthouse. The wide panorama was stitched together with 20 individual images.
For the contest, entrants had to submit five pictures. Photos could include anything from amazing landscapes that capture celestial phenomena, through to stunning deep space images taken by orbital telescopes.
A panel of judges selected the winner across several categories, including Earth and Space, Our Solar System, Deep Space, Young Astronomy Photographer, and others. Winners received a top prize of £1,500 (USD$2,412) and will have their work displayed alongside other chosen pictures at the Royal Observatory in Greenwich.
Here are some of our favorites:
Images and captions via The Royal Museums Greenwich. Photographer info is listed below each image.
A Quadruple Lunar Halo by Danie Caxete. From the photographer:
Sometimes falling ice crystals make the atmosphere into a giant lens, causing arcs and halos to appear around the Sun or Moon. This past Saturday night was just such a time near Madrid, where a winter sky displayed not only a bright Moon but as many as four rare lunar halos. The brightest object in this image is the Moon. Far in the background is a skyscape that includes Sirius, the belt of Orion and Betelgeuse, all visible between the inner and outer arcs.
Related: The Hottest Space Porn of 2012; The Most Stunning Astronomy Photos of the Year (2012).