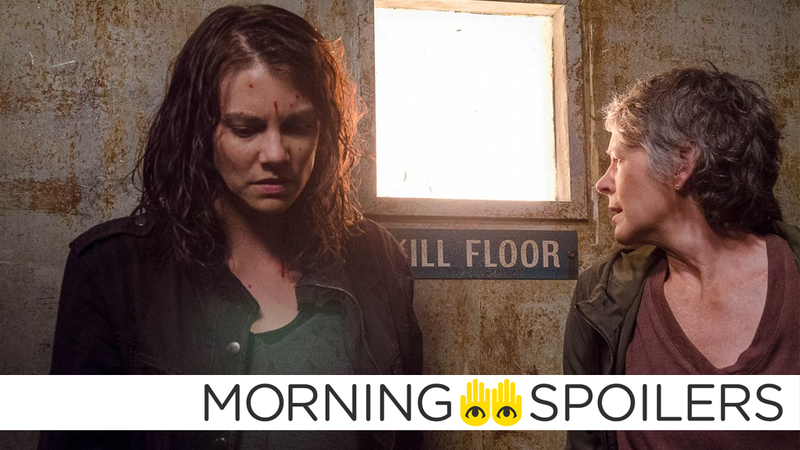 And even more death is coming to the show. The Russo brothers tease the possibility of more than one Civil War post-credits scene. Get a brief glimpse of the Star Trek TV show... sort of. Plus, more Ready Player One casting, Batman v Superman B-roll, and a clip from Agents of SHIELD. To me, my Spoilers!
Ready Player One
THR is reporting that Simon Pegg is in talks to join the film based on Ernest Cline's '80s pop culture lovefest novel.
Pegg would play Orgen Morrow, the co-creator of a virtual reality online game system named Oasis that is the setting for the story's "treasure hunt" after Morrow's co-creator passes away, leaving his fortune to whichever lucky gamer can find it.
---
Captain America: Civil War
Speaking to Forbes, the Russo brothers discuss Spider-Man's costume, and introducing the character for the first time in last week's trailer:
Joe Russo: The design of the costume is what it is. That's the design that we love, it's the design that Kevin Feige loves and so on. He's a very popular character so it's always going to be controversial, people are always going to love or hate what you do with him, but all we can do is make sure that we love it, that we are true to ourselves and true to how we feel about the character and then hope that everybody else digs it.

Anthony Russo: Part of the issue is that we gave such a small impression of the character in that trailer, it's something of a Rorschach test where people can pour as much of their Spidey anxieties out—but when they see the movie they are going to get a very big picture of a very complete character that they have never seen before. It's kind of hard to react to people's reactions but they will change radically when they see the movie.
In the same interview, Joe Russo briefly discussed the contents of the film's post-credit sequence, teasing there could be more than one.
We can't say who is going to be in it but we can say that there certainly could be one, or two, maybe three. We can confirm that you should stay sat in your seats when the movie is done.
Naturally, this has lead to talk that the film does indeed feature three post-credit sequences.
---
X-Men: Apocalypse
Olivia Munn discusses what drew her to the character of Psylocke:
I've loved Psylocke for so long. She's a really, really strong badass female character in this comic book world where a lot of times the women don't get to be strong and badass. You see a lot of superheroes [who] don't always want to kill, and they'll avoid it if they can. She's never had a problem killing, and I like that she was the bad guy that had no problem being the bad guy. She's telekinetic and telepathic so she can read your mind. She can create anything with her mind. To win any fights, she can just create a mountain and have it fall down on you, but she chooses to create a sword so she can kill up close and personal. I always thought that was really cool and badass.
[CNET]
---
Suicide Squad
David Ayer talks up Jared Leto's performance as the Joker:
What Jared has done is absolutely incredible. When he steps onto the set the world stops. Everything stops. What he's done is so powerful, so menacing, so palpable, you can feel him. The crew stops working and just watches him. I have to get everybody going again because he's so fascinating.
[Total Film via Comicbook.com]
---
Batman v Superman
Zack Snyder discusses what's in the film's R-Rated "Director's Cut" DVD/Blu-ray version:
[The DVD release] is a half-hour longer, and some of that additional material is some of the stuff we took out for the rating. I was like, "'ool, I can put it back in for the director's cut.' There was nothing by design. There was nothing by design. This was the material I just put back in, and then when [the MPAA] looked at it again, they were like, 'Oh, now the movie's rated R.' And, by the way, it's not a hard R. There's no nudity. There's a little bit of violence. It just tips the scale.
[THR]
Here's four minutes of B-Roll from filming the movie.
---
The Walking Dead
A completely wild theory shared to Uproxx claims to narrow down the identity of the character who will face the wroth of Negan in the sixth season finale... through a song.