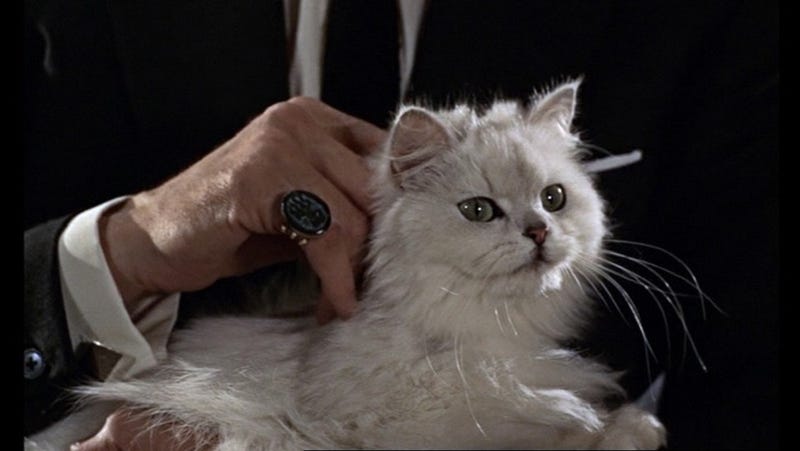 When it comes to fiction, an animal is never just animal. Animals always symbolize things — and they usually symbolize the same thing over and over. For example, a crow isn't just a common bird who happens to be nearby, it's a dark portent of bad things to come. Here are the most overused animal stereotypes in pop culture.
Cats Are Mean, Evil, and/or Magic
As seen in: Discworld; Macbeth; the Smurfs; The Sandman; All Dogs Go to Heaven 2; Pet Semetary; Watership Down; Harry Potter; X-Files "Teso Dos Bichos"
Cats, man. Ever since they wandered out of the desert and started hunting mice, we've assumed there must be something else going on with them. The Egyptians thought they were messengers from the gods. Later, they were attached to witches, either as their familiars or as the preferred form of shapeshifting witches. Maybe it's the way their pupils change sizes. Or the way they seem to play with their food. The freaky way they move and hunt in the night. The way they like to drop dead things in front of us. The tendency to act all independent and not follow us around acting all worshipful and stuff. Their unpleasant hissing and yowling.
Whatever it is, owning a pet cat is shorthand for "evil dude." And it's not just the sleek black cats, famed for their ability to bring bad luck, that get this treatment. The iconic bad guy Ernst Blofeld has a fluffy white cat which he pets, menacingly. In Watership Down, Animal Farm, and many other works featuring talking animals, they're the evil hunters. Tiny, cute things are natural protagonists. So the already-discriminated-against cats are natural enemies. In All Dogs Go to Heaven 2, a cat is literally Satan.
Even people who like cats have are prone to indulging this trope. Check out these quotes:
All cats can see futures, and see echoes of the past. We can watch the passage of creatures from the infinity of now, from all the worlds like ours, only fractionally different. And we follow them with our eyes, ghost things, and the humans see nothing.

―Neil Gaiman, Sandman #18: "A Dream of a Thousand Cats"

For the cat is cryptic, and close to strange things which men cannot see. He is the soul of antique Aegyptus, and bearer of tales from forgotten cities in Meroe and Ophir. He is the kin of the jungle's lords, and heir to the secrets of hoary and sinister Africa. The Sphinx is his cousin, and he speaks her language; but he is more ancient than the Sphinx, and remembers that which she hath forgotten

― H. P. Lovecraft, "The Cats of Ulthar"

If cats looked like frogs we'd realize what nasty, cruel little bastards they are. Style. That's what people remember.
― Terry Pratchett, Lords and Ladies
It doesn't matter that, in the U.S. alone, there are 86.4 million pet cats. Or that 39% of U.S. households have pets cats, and that 52% of those households have more than one. They're evil. Or the U.S. has a massive, unaddressed, evil witch problem.
Dogs Are Dumb, Loyal, and Hero's Best Friend
As Seen In: Garfield; Up; Watership Down; Animal Farm; The Unadulterated Cat; So Long, and Thanks for All the Fish; Red Dwarf; Rin Tin Tin; The Dresden Files; Lassie; Harry Potter; Wizard of Oz; Tintin; Superman; Batman; The Little Mermaid; Mad Max; TRON: Legacy; Person of Interest.
If cats are independent, and therefore worrisome, dogs are loyal and everyone's best friend. A good dog is an obedient dog, and that's easy to treat as loyalty. It's also easy to see an animal that does what it's told as stupid and incapable of independent thought.
Rin Tin Tin and Lassie are the prototypical hero dogs, who save humans in danger. Then there's Watership Down and Animal Farm, where dogs are antagonists, but still stupid. Harry Dresden's Mouse is a giant, loyal dog who also saves his life. So Long, and Thanks for All the Fish has Know-Nothing Bozo the Non-wonder Dog, who is incapable of eating any food that's not covered in engine oil.
We've also got dogs who look scary, but are undercut by these traits. Hagrid's Fang from Harry Potter springs to mind.
And while evil masterminds pet a cat, heroes can be designated by their dog sidekick. See Dorothy's Toto, Tintin's Snowy, Superman's Krypto, Ace the Bat-Hound, Prince Eric's (from The Little Mermaid) dog, Mad Max's, TRON: Legacy's Sam's. Even the ultra-paranoid Person of Interest has a loyal dog companion.
Wolves Are Fierce, Noble Pack Animals
As Seen In: The Chronicles of Narnia; Middle Earth's Wargs; Wheel of Time; A Song of Ice and Fire; White Fang; The Call of the Wild; The Belgariad; Discworld, The Immortals by Tamora Pierce
Image by Martin Mecnarowski
This is the flipside of the dog one. Wolves stand as symbols of the fierce, untamed wild. We see our happy, loyal dogs and like to imagine they're really wolves. That any moment, they'll shake off domestication and be noble animals once again. That's the central theme of Jack London's White Fang. And the fear that drives the werewolf myth.
And we also love the totally untrue idea of the pack system. That, even in the wild, the strongest, smartest wolf is in charge.