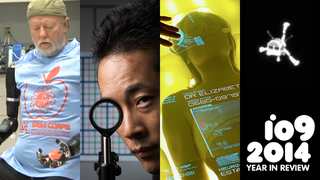 As 2014 comes to a close, it's time to reflect on the most futuristic breakthroughs and developments of the past year. This year's crop features a slew of incredible technological, scientific, and social achievements, from mind-to-mind communication to self-guiding sniper bullets. Here are 15 predictions that came true in 2014.
Technologically-assisted telepathy was successfully demonstrated in humans
For the first time ever, two humans exchanged thoughts via mind-to-mind communication.
Remarkably, the system is completely non-invasive. By using internet-linked electroencephalogram (EEG) and robot-assisted image-guided transcranial magnetic stimulation (TMS) technologies, an international team of researchers were able to get two subjects — one in India and one in France — to mentally transmit the words "hola" and "ciao." It's an important proof of concept for furthering the development of tech-enabled telepathy. Image: Carles Grau et al/Plos.
And in a similar breakthrough, a different team developed a system that allowed a human subject to control the movements of another person. The University of Washington researchers showcased the technology by having participants collaborate on a computer game where a "sender" sent mental instructions to a "receiver" to control their hand movements.
NASA emailed a wrench to the space station
In what's being seen as a precursor to a Star Trek-like replicator, astronauts aboard the ISS used their 3D printer to manufacture a socket wrench. Remarkably, the 20-part wrench was designed on Earth and emailed to astronaut Barry Wilmore who ran it through the printer. It's a prime example of how 3D printing is poised to change space travel, allowing astronauts to produce equipment on demand and in emergency situations. Image: NASA.
Relatedly, British fighter jets are now flying with 3D-printed parts, while surgeons were able to reconstruct a man's face using a 3D printer.