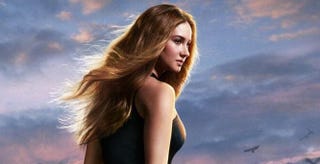 Divergent had a respectable opening weekend box office — not as high as some had predicted, but high enough to justify a sequel. And everybody had to have their own take on the cultural significance of this film, from the Hillary Clinton factor to its role as capitalist propaganda.
The Hillary Factor. The Daily Beast wonders why this movie's villain, played by Kate Winslet, looks exactly like a caricature of Hillary Clinton. She "just happens to have a Middle-American accent, blonde, bobbed hair, a matronly figure, and a closet full of long, collarless pantsuits. In short, Matthews looks and acts exactly like Hillary Clinton—or at least Hillary Clinton as imagined by the conservative contingent at Comic Con." They also mention the villain of Elysium, and the character soon to be played by Julianne Moore in Hunger Games: Mockingjay.
The takeaway? Maybe this is a sign of the Hillary backlash, or maybe these strong (evil) female leaders are appearing "because we're actually becoming more comfortable with female leaders."
The Dystopia Thing. Slate wonders why teens are so fascinated with dystopias — something we've thought about before — and comes up with the notion that they're a metaphor for high school popularity contests and stuff. "YA dystopias externalize the turmoil that's already taking place in adolescent minds, hearts, and bodies. The social, interpersonal, and biological phenomena that define teenage life—competition and jealousy, anxiety about exclusion and belonging, shifting alliances, first crushes, wet dreams—are codified and, in some way, dignified by their transmutation into fiction.