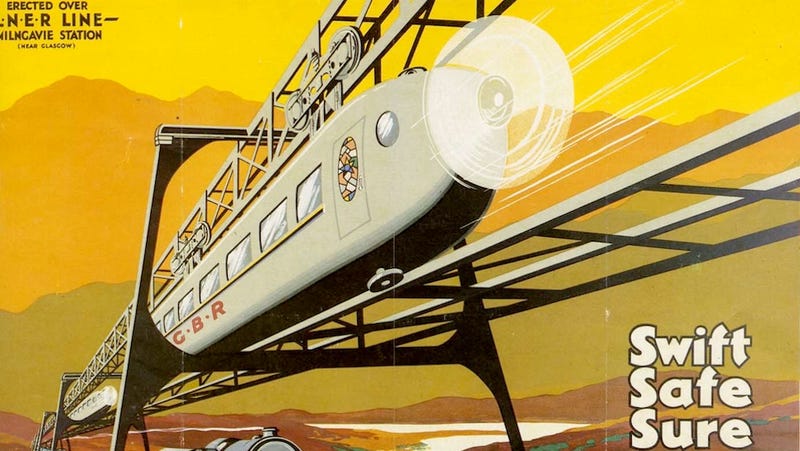 Today, monorails may be fodder for The Simpsons, but well into the 20th century, the monorail was a glittering symbol of the future of transit. From the 1800s through the 1980s, these are monorail concepts artists and engineers dreamed up.
Monorail vélocipedique from the mid-1800s
(via Wikimedia Commons)
"Fawkes' Folly," an experimental monorail car built by J.W. Fawkes in Burbank, c. 1907-1910
The idea never found backers—but if it had, the public might be enjoying futuristic monorail travel through the air between Burbank and downtown. In 1910 inventor J.W. Fawkes built a propellor-driven aerial trolley that he claimed would haul passengers at speeds up to 60 miles per hour. To demonstrate, he hung a quarter-mile-long overhead track in his Burbank apricot orchard and invited passengers aboard. Dubbed the Aerial Swallow, the trolley was about 40 feet long and powered by a Frankline air-cooled engine, which turned the propeller. But the prototype topped out at three miles per hour, and investors kept their hands in their pockets.
(via University Of Southern California and Retrofuture)
Aerial Mono-Flyer from the cover of Electrical Experimenter, August 1918
(via Picoso Creative)
Francis Laur's "guided flying" monorail from 1919
(via Popular Mechanics, December 1919)
A monorail locomotive built for the Bradford and Fosterbrook Railway
(via Dark Roasted Blend)
Electric but super fast (with a top speed of 150 mph) Air Trolleys by Joseph Archer, a French engineer, 1930
(via Modern Mechanix, May 1930)
Aerial Ferries – the Bridges of the Future, 1933
(via Popular Mechanics, May 1933)
Hanging cabs driven by a fifteen-horsepower electric motor, capable of speeds of 155 miles an hour, invented by a French engineer in 1933
(via Popular Science, June 1933)
An amphibious monorail car that could cross a river, 1934
(via Modern Mechanix)
A German monorail car that would travel 300 miles per hour, by Raymond C. Buchardt, 1934
(via Modern Mechanix)
A two-wheeled mountain monorail with an airplane propeller and tail fin, by Kikuzō Itō, 1936
(via Pink Tentacle)
An underground monorail concept by Hans and Botho von Römer, 1941
(via Retro-Futurismus)
"Visions of the Future" by Bohn, 1940s
(via Retronaut)
Gyro monorail, 1943
(via Picoso Creative)
From the cover of Science and Mechanics, February 1946
(via Modern Mechanix)
An illustration by Arthur Radebaugh on an advert for National Oil in 1953