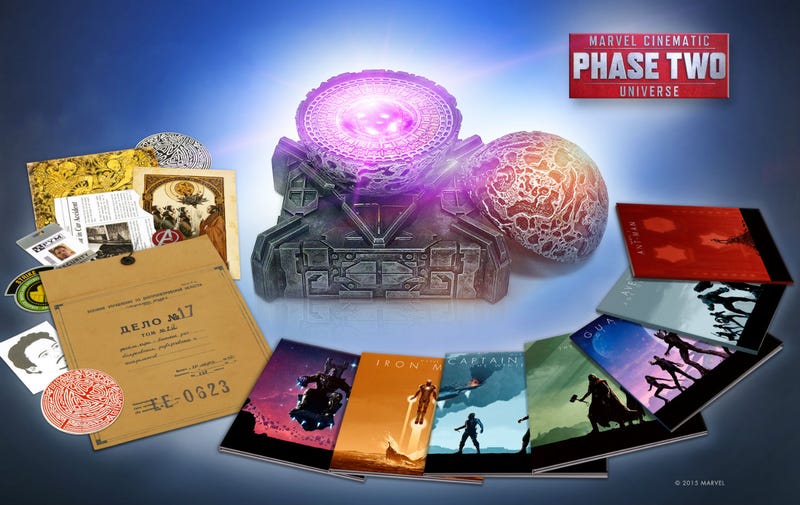 A sane person would say the best part of Marvel completing a series of movies is getting to see those movies. That person would be half right. The other great part is they get to release a big Blu-ray box set collecting all types of information about the movies.
The Marvel Cinematic Universe Phase 2 box set will be released December 8 as an Amazon exclusive. However, Disney was nice enough to send us a copy to review and holy crap, it's absolutely incredible.
Let's work from the outside in. Once you open the box (which itself is pretty nice and well-packaged) you'll reveal a plastic orb and base. It's the orb from Guardians of the Galaxy, of course, and on the side is a purple Infinity gem. The orb opens into two halves so the stone can go inside. Plus, one side has a button that makes the stone glow. So cool.
The base is also nicely detailed, but mostly it's just the case for the six movies inside, which represent Phase 2. They are Iron Man 3, Thor: The Dark World, Captain America: The Winter Soldier, Guardians of the Galaxy, Avengers: Age of Ultron and Ant-Man. Each comes not only with a Blu-ray, but a digital copy and the 3D Blu-ray too. Plus, they all have their original special features—deleted scenes, commentaries, featurettes, all that good stuff. And of course, artist Matt Ferguson did awesome new art for each film.