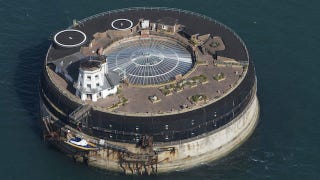 You yearn for the sea life, but life on ship might not be exactly what you want. Then why not create your own country on an abandoned sea fort or oil rig? That's what these people have done.
Spitbank Fort and No Man's Land Fort in Portsmouth Harbour, turned into luxury hotels
These mid-19th century Solent forts protected a British naval base against Napoleon III's Navy. The Spitbank was decommissioned in 1982 and has been in the hands of private owners until 2010, when the current owners bought it.
Now, three years later it has eight suits, an outdoor heated pool, a rooftop champagne bar, a spa and a recreation room.
The No Man's Land Fort (featured in a Jon Pertwee-era Doctor Who episode with Sea Devils in 1972) was a hotel for ten years, but it has been closed in 2004 (Legionella bacteria found in the hotel's water system) and sold four time since then. Now it's still under development. It will have 27 bedrooms.
(via io9 and Spitbank Fort)