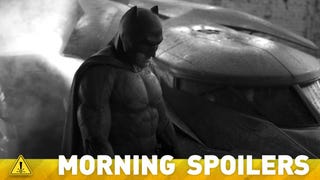 Now we know when we'll learn the truth about Peter Quill's father. Peter Mayhew makes bold claims about Star Wars: Episode VII. The premiere of Agents of SHIELD will bring back a old foe. And 12 Monkeys, The Flash, and Bitten all add new characters and cast. Spoilers now!
Top image: Batman v. Superman: Dawn of Justice
Batman v. Superman
Apparently, the touch of gray in Ben Affleck's temples in the first photos of him from the set is fairly subtle, given how old some anonymous sources indicate this Bruce Wayne is supposed to be. From Badass Digest:
My sources indicate that when BvS opens Batman has existed for close to thirty years, which would place Wayne in his 50s (which is why I expected more grey in Affleck's hair). In this version Batman is still an urban legend, a creature of the night, and no one has ever taken his picture. But he's had plenty of adventures, and the Batcave includes a memorial centered around a tattered Robin costume.
Apparently, Superman's appearance in Man of Steel makes him one of the last, not the first, superheroes on the scene. Because Wonder Woman's also been around for a while when Batman v. Superman starts:
By the way, my sources tell me that Wonder Woman has also been in operation for some time before Batman v Superman: Dawn of Justice begins, and her activities have been just as secretive as Batman's. Her activities were badass as well... but in a very different, and unexpected, way.
As always with unsourced rumors, keep the salt handy. [Badass Digest]
Here's a set video showing the set up of a stunt involving Bruce Wayne and the rescue of a small girl from the collapsing of a large piece of the Wayne Financial building in what looks like Metropolis rather than Gotham. [ Movieweb via Comic Book Resources]
---
Guardians of the Galaxy 2
We're back to speculating about how the movies will tackle Peter Quill's father, and it certainly seems to be pointing in a direction away from the comics and towards something pretty major. Kevin Fegie told IGN:
I think it's pretty important. I think there's a reason we seeded it at the very end of the film like that. I think that would certainly be part of a next Guardians adventure. Certainly, that would be part of it.
Feige continued that he believes that the reveal will come in Guardians 2. He added:
I think that's pretty important for James [Gunn] and would be appropriate in a [Guardians movie]. I don't think you'd spoil that in Cap 3.
[ IGN]
---
Star Wars: Episode VII
Peter Mayhew said this movie "will be the best Star Wars film I will have seen" at Wizard World San Antonio. Mayhew also said that the film will have "no, or very little, computer generated effects and will instead be very practical." And, in something we've heard from the set before, he added that everything we've heard about Harrison Ford's injury isn't true. [blastr]
---
Avengers: Age of Ultron
Speaking at Nerd HQ, Joss Whedon explained how the events of Captain America 2 would influence the Avengers sequel, saying:
The fact is, Ultron is a clear and present danger and Bucky's in the wind. We do mention the fact that that is [Captain America's] primary thing, but he is also working with the Avengers, too. We're not ignoring it, but he definitely has to deal with a mad eight-foot robot, because that's one of those things, you put it off and it just gets worse.
You can see the full interview at the link. [ Nerd HQ via Comic Book.com]
---
Prisoner of War
Coming off of his turn as Ronan in Guardians of the Galaxy, Lee Pace is replacing Alex Russell as the star of Prisoner of War, about American soldier and a French foreign aid worker (Bérénice Marlohe) who work together in Africa amid humankind's last stand against an alien invasion. [Deadline]