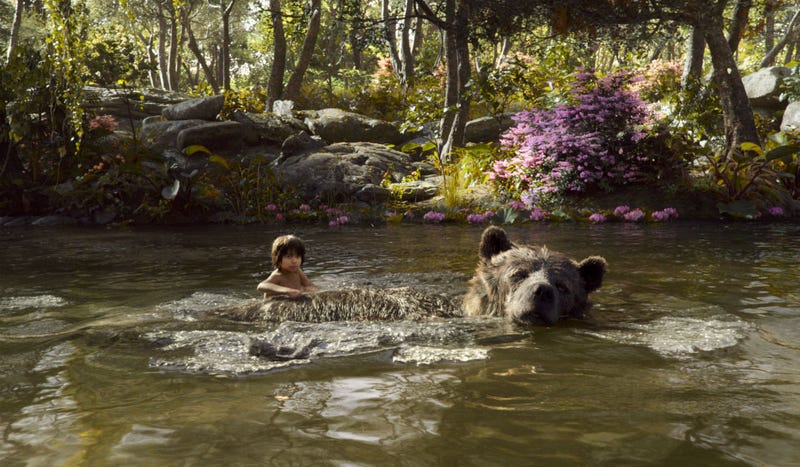 Jon Favreau's The Jungle Book ends with a credit that says "Filmed in Downtown Los Angeles." This comes as a shocking revelation, after watching a film that takes place in a jungle. And yet, its technical mastery isn't the most impressive thing in the film. The Jungle Book is the first of Disney's live-action remakes that truly distinguishes itself from the original. And that makes it the best one yet.
Like the original Disney film, and other versions of Rudyard Kipling's story that have come before it, this new Jungle Book is about a young boy named Mowgli (Neel Sethi) who's abandoned in the jungle and raised by wolves. But when a vicious tiger named Shere Khan (voiced by Idris Elba) decides he wants Mowgli dead, Mowgli will have to try and escape the jungle with the help from some friends.
Right off the bat, Favreau's film tells you that it's a radically different version of this story. It grabs you with an ambitious chase sequence. Next, we meet our main characters, their families and get an explanation of this world. Shere Khan is introduced as the antagonist early on, something the original '67 Disney film didn't do until the end of act two. This is just one of Favreau and writer Justin Marks' changes to that beloved film. Introducing the bad guy early gives the film more tension, and adds more motivation for Mowgli's goal of survival.
And meanwhile, Favreau does a decent job of removing some of the worst racist connotations of Kipling's original story, and the Disney cartoon. The character of King Louie, who was a "minstrel show" caricature of an African American in the cartoon, is here portrayed as a powerful leader (with the voice of Christopher Walken.) In general, the animals are not so much racially coded, and there's a diverse voice cast. The weird racial subtext of the story of apes who want the human secret of fire (i.e., technology) is still there—but it's more complicated, and the film is careful to sidestep the worst pitfalls.