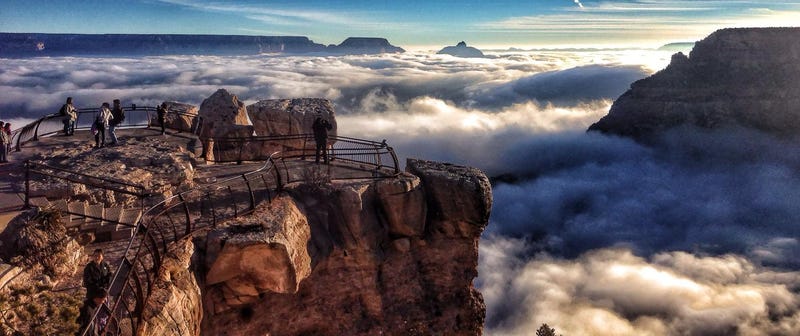 We've taken a lot of strange journeys together at io9 this year. And hopefully, we've learned some stuff along the way — including some stuff you'd probably like to unlearn. Here are all of the most popular io9 posts from 2013, in science, pop culture and general weirdness.
Top image: Grand Canyon, photo by Erin Whitaker.
Science You Can Use
Americans – why do you keep refrigerating your eggs?
Wine tasting is bullshit. Here's why.
The 12 cognitive biases that prevent you from being rational
Let's just debunk every flu-vaccine myth in one fell swoop, shall we?
Why Does Coffee Make You Poop?
Why You Always Wake Up Early After a Night of Drinking
A mysterious law that predicts the size of the world's biggest cities
Pop Culture We Love
The Best and Worst Science Fiction and Fantasy Movies of 2013
10 Book Series So Addictive, You Never Want Them to End
10 Things You Probably Didn't Know About Star Wars: Return of the Jedi
The New Anime Series You Absolutely Need to Be Watching
The first new Godzilla movie footage is monstrously awesome
The Best Science Fiction and Fantasy Books of 2013
15 People Who Have Kicked Batman's Ass
10 Novels That Are More Action-Packed Than Most Summer Movies
20 Science Fiction Moments That Will Make Absolutely Anyone Cry
10 Decent Movies That Were Doomed by Unfair Memes
The Strange, Secret Evolution of Babylon 5
The Best and Worst Television Moments of 2013
Startling Science
The 18 Most Futuristic Predictions That Came True in 2013
Temporary tattoos could make electronic telepathy and telekinesis possible
This tiny, wearable patch makes you invisible to mosquitos
Meet Prince Rupert's Drop. It's about to blow your mind.
Scientists 'freeze' light for an entire minute
Here's what Pangea looks like mapped with modern political borders
What the Death of the Sun Will Look Like
If Earth Had a Ring Like Saturn
The Most Incredible Historical Discoveries of 2013
Astronomers discover a massive asteroid that could hit us in 2032
Crows could be the key to understanding alien intelligence
8 Incredible Facts You May Not Know About Human Evolution
7.7 magnitude quake in Pakistan just created a new island
Meet the scientific accident that could change the world
10 mindblowingly futuristic technologies that will appear by the 2030s
15 Uncanny Examples of the Golden Ratio in Nature
Brain-to-brain interfaces have arrived, and they are absolutely mindblowing
An 'alternative universe' will eventually destroy ours, says Higgs researcher
Rants and Dissections
Star Trek Into Darkness: The Spoiler FAQ
Daenerys' whole storyline on Game of Thrones is messed up
The 50+ Greatest Tweets about Ben Affleck's casting as Batman
The 100+ Best Tweets about last night's Game of Thrones
How the Oscars proved Hollywood is killing the VFX industry
I still don't want to see Zack Snyder's take on Wonder Woman
The Most Important Scenes from Man of Steel (As I Remember Them)
All the Game of Thrones Fan Theories You Absolutely Need to Know
Why can't any recent Sherlock Holmes adaptation get Irene Adler right?
How one man's lies almost destroyed the comics industry
The 12 Worst Things in the Star Wars Expanded Universe
The Biggest Mistakes, Blunders and Bad Ideas of 2013
Holy Crap WTF
A Map of the Weirdest Sex Laws in the United States
The World's Most Awkward Taxidermy
The Strangest Tradition of the Victorian Era: Post-Mortem Photography
This is a video of a dolphin masturbating with a decapitated fish