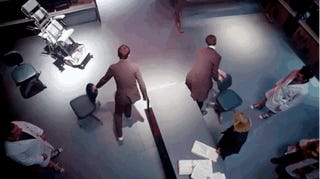 John Rawls was a philosopher who became famous for a thought experiment, in which the only way to reach a fair arrangement is if people don't know which side they'll end up on. This thought experiment is played out in today's Doctor Who special, and it's at the center of the Doctor's own dilemma.
Spoilers ahead...
Rawls believed that if we could have a "veil of ignorance," we'd all opt to create a perfectly fair society. In other words, if you somehow had your memory wiped and didn't know whether you were a rich person or a poor person, you'd opt to create a society where you'd be okay in either eventuality.
In "The Day of the Doctor," the assembled Doctors impose a veil of ignorance on the humans and the Zygons, to force them to negotiate from a position of total neutrality. The Zygons, handily enough, are shape-shifters who want to take over the Earth. The humans have a nuclear warhead which they're going to use to destroy the Zygons, along with all the super-weapons they've gotten their suckers on.
Luckily, though, the vault where the Zygons and humans are collected has memory-wiping devices in the ceiling. And the Zygons have already turned themselves into perfect duplicates of the humans in the room. So the Doctors arrange it so that nobody in the room knows whether they're a human or a Zygon, and thus everybody will have to work together.
This, in turn, is a means of avoiding a terrible choice — sacrifice millions to save billions, thanks to that nuclear warhead — which echoes the choice the Doctor made four hundred years ago, to destroy his home planet and his own people to save the universe from the ravages of the Time War.
The Doctor is a shapeshifter
The choice of Zygons, the red sucker-covered beasties that only appeared in 1975's "Terror of the Zygons," as the episode's villains, seems like an odd one. (Although bear in mind, Steven Moffat doesn't really seem to like to include proper villains in his "event" episodes. No villain appears in "The Big Bang," and the Silence are more a momentary distraction, in "The Wedding of River Song.")