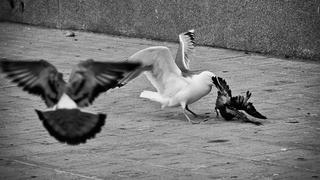 Pigeons are everywhere. New York City, alone, is thought to harbor as many as 7-million of them. But where are all the dead pigeons? The short answer: Inside other animals. The long answer – horribly, but necessarily – involves GIFs.
Photo Credit: Carlos Larios via flickr | CC BY-NC-ND 2.0
WARNING: This Post Contains Graphic Footage of Pigeon Demise

It's hard out there for a pigeon. Harder than you probably realize. More than most animals, pigeons have shared in a long, at times even convivial, relationship with humans. And yet they seem to have fallen out of public favor in recent years. They have a lot in common with rats, another loathed species with intimate ties to humanity. Like rats, today's pigeons, especially those of the feral variety, are associated with grime, disease, and overwhelming numbers – a nest-building, infrastructure-exploiting perfusion of the modern urban landscape.