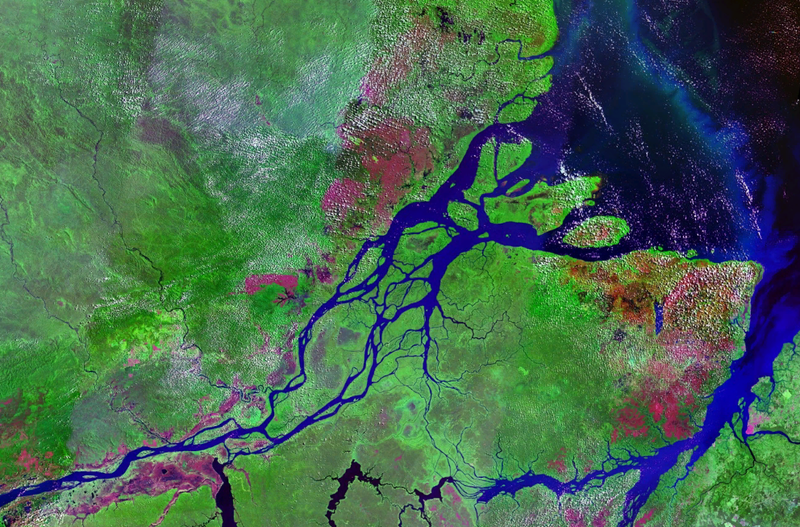 The more we learn about ecosystems, the more obvious it becomes that we won't save the Earth until we admit that our planet is a giant, incredibly complex machine that can be programmed. And, with enough study, it can be reprogrammed, too.
Image via NASA
One of the things I find irritating about some environmentalist rhetoric is the oft-repeated idea that nature is the opposite of a machine. On the contrary, our natural environments seem to behave very much like devices with interchangeable parts, whose inputs result in predictable outputs.
Take, for example, the story of the monarch butterfly. This is a beautiful orange and black insect whose wings fold into gently curved triangles when they alight. Native to the Americas, monarchs travel on an annual migration through Canada, the United States and Mexico, pausing along the way to gather in enormous flocks of tens of thousands of butterflies. They gather in such incredible numbers that trees appear to be draped in orange-and-black leaves, which upon closer examination resolve themselves into fluttering wings.
Photo by Alex Wild
This season, however, the great monarch migration to Mexico has become a shadow of its former self. Hundreds of thousands of butterflies used to descend on the cool mountains of central Mexico, but last year only 60,000 came. This year only 3000 arrived, a week late. Environmental scientists are warning that the insects may be headed rapidly for extinction. What happened?
Think of the monarch butterflies' population as the output of a machine process that has gone wrong. To understand that process, scientists have had to observe the butterflies and their environments for decades. It was only in the 1970s when Canadian entomologists Fred and Nora Urquhart discovered something incredible about these butterflies. Their migration spans 3 to 4 generations, with each new generation completing only part of the circuit between Canada and Mexico.
The butterflies who begin this incredible cross-continental migration in Canada will never make it back – only their great-grandchildren will.
Along the migration route, each generation settles in a preferred egg-laying area full of milkweed, which is the only kind of plant their larvae can eat. In a sense, these animals are living out the scenario that so many science fiction writers have imagined in stories of generation ships. Each cohort goes on a journey from which they will never return home. But their offspring will eventually complete this dramatic quest.
What anchors this epic flight is the environment. Specifically, the butterflies require milkweed, without which they cannot return to their ancestral homes because they can't reproduce. Unfortunately, as its name implies, milkweed is a weed. As farms grow and humans take over formerly wild habitats, they destroy the milkweed that is part of the monarch's lifecycle.
Now, with very little milkweed, the monarch migration grows thin. These animals are suffering from a famine. Put another way, the process that produces their population has been perturbed. Milkweed is an input into this process; humans are an input; and all of the plants that make up agriculture are an input.
This year, the ancient process that produced large populations of monarchs has many new inputs. Not surprisingly, the output is different from what we saw historically.
Photo via US Fish and Wildlife Service
The beautiful and frustrating part about the machine that is our planet is that every output is also an input. Monarchs help fertilize plants, and when there are very few monarchs, those plants cannot reproduce. Monarchs also provide food for birds, which means that the monarch famine becomes a bird famine. Eventually this famine will get passed along to humans – especially when you consider that monarchs are just one of many insects whose populations are under threat. Bees, which pollinate a number of plants humans eat for food, are also suffering low population numbers.