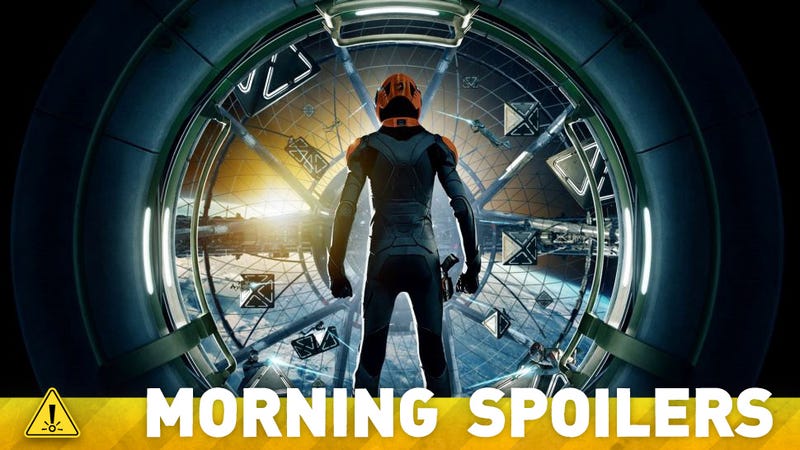 Ender's Game wants you to join the International Fleet. Jamie Foxx wants Electro to have kind of an odd catch phrase. S.H.I.E.LD. might be getting a new home in Captain America: The Winter Soldier. Some Independence Day stars could return. Brian K. Vaughan explains how Under the Dome could last for years. Spoilers ahead!
The Amazing Spider-Man 2
In order to make Electro, a lesser known Spider-Man villain, more memorable to audiences, director Marc Webb gave actor Jamie Foxx room to improvise. Foxx talks about his approach to the character and his attempts to create a catchphrase.
"They would allow me to come up with things, because I think why you like going to see those types of movies, and that's what I dig doing, you want to hear catchphrases. So at one point we were doing this green screen thing, and [Marc Webb] says, 'Just ad-lib something.' And I said, "The itsy-bitsy spider went up the water spout, down came... Electro... and wiped the spider out."

"What I wanted to bring, we all decided was, we wanted to make Electro a formidable opponent, meaning we want him to really, really not like Spider-Man"
[MTV]
Director Marc Webb officially calls a wrap on day 100 of shooting The Amazing Spider-Man 2. He finishes off his regular production updates and pictures with this cool video.
[MTV]
---
Captain America: The Winter Solider
S.H.I.E.LD might have a more stationary home in the Captain America movie, if a Cleveland set visit report turns out to be accurate. ComicBookMovie reports:
"First, a production crew member who was at the bridge location early in the morning let it slip that the Lorain Ave. Bridge is standing in for the bridge leading to S.H.I.E.L.D.'s headquarters the Triskelion, S.H.I.E.L.D.'s brick and mortar home. The second source, who is an extra at the Cleveland Museum of Art location, has now told The Daily SuperHero a part of the interior of the museum will stand in for an interior scene of the Triskelion as well."
If the rumor is true, the island headquarters/prison might have interesting implications for Agents of S.H.I.E.L.D as well.
---
Divergent
Stills from the upcoming dystopian future movie Divergent show Shaliene Woodley getting tough in her starring role of Tris. Here is the official description of the film:
DIVERGENT is a thrilling adventure set in a future world where people are divided into distinct factions based on their personalities. Tris Prior (Shailene Woodley) is warned she is Divergent and will never fit into any one group. When she discovers a conspiracy to destroy all Divergents, she must find out what makes being Divergent so dangerous before it's too late.
Click the gallery to see the stills from the film