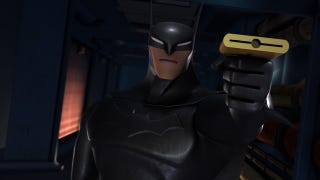 This week, we are treated to the debut of Beware the Batman and the return of DC Nation! Is Beware the Batman the mature super-hero show fans have cried out for since the cancellation of Young Justice?
TMNT, Adventure Time, and Regular Show are scheduled to return next week. As always - minor spoilers ahead!
---
Avengers Assemble – "The Serpent of Doom"
Doom takes a piece of Thor's homeland for himself this week, brandishing Jörmungandr (at least I think it's Jörmungandr...) on the front yard of the Latverian Embassy. As Doctor Doom summons the Serpent of Midgard to Earth, Thor throws himself headlong into the chaos.
---
Beware the Batman – "Hunted"
Beware the Batman is a different spin on the Batman mythos, returning to the character's detective roots.