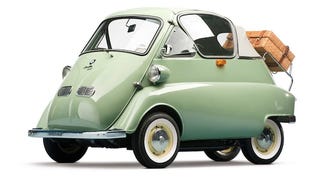 The microcar boom arrived after World War II, and gave us hundreds of beautiful little motors. These tiny cars provided the ultimate in personal transportation — but they also have oodles of personality. Check out the most adorable microcars of the 20th century.
Davis D-2 Divan, a two-door, three-wheeler sedan with a 47 hp four-cylinder engine. (it was later changed to a 63 hp four) 13 of them were built in 1948.
(via Carstyling and See Monterey)
An early, all-steel Mochet Type K, built by Charles Mochet in Puteaux, France, 1948
Champion CH-2, one of the two surviving examples of the 11 produced models in the Hermann Holbein Fahrzeugbau in Ulm, Germany, 1949
The CH-2 was designed by Hermann Holbein, a former development engineer of BMW before WWII and an Albert Maier, an engineer of the gear-maker ZF Company in 1949.
A Rolux Baby, one of the 400 built by Societé Rolux in Clermont-Ferrand, France between 1949 and 1954.
An early cycle-car style vehicle of Reyonnah, a French automotive company produced 16 microcars between 1951 and 1954. The company was founded by Robert Hannoyer.
It could tuck its wheels underneath for storage.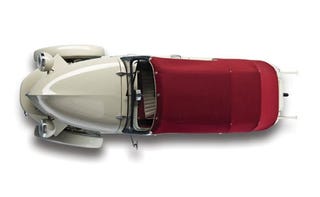 Biscúter, one of the most popular cars in Spain during the 1950s. It was designed by Gabriel Voisin.
The name Biscúter (Biscooter) implied that it was about the size of two scooters. Several different bodystyles were produced.
(via Wikimedia Commons)
Allard Clipper, an English 3-wheeler with a 347 cc engine, produced by Sydney Allard's Allard Motor Company, 1952
Only 2 are known to survive of the twenty produced cars.
(via Carstyling)
A first-generation Messerschmitt Kabinenroller 175, produced in Regensburg, Germany, 1953
This 9ft 3 in long car with it s 175cc, 9hp engine is a perfect late-first-generation example of its kind.
Velorex 16/175 and 16/350, two-seat cars designed for the disabled, produced from the early 1950s to 1971.
These cars were built on a frame of welded steel tubing, covered with vinyl and artificial leather.
(via György Rétvári and free photos)
The Bond Minicar Mk C, produced by Sharp's Commercials in Preston, England, 1953
A Mochet CM-125 Grand Luxe, produced by Charles Mochet in Puteaux, France, 1953
The 7 ft 9 in (236 cm) long IHLE Shottenring, built by Frank and Thomas Ihle in Bruchsal, Germany, 1954
A one-off microcar, built by M. Grataloup in France, 1955
The car has a 247cc, 7.5 hp British Villiers MK IX engine from a BSA motorcycle produced in the late 1920s.
The Alba Regia (left), designed by József Horváth and the Balaton (right), by József Zappel, Székesfehérvár, Hungary, 1955
More information on Jalopnik: