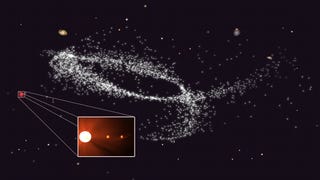 Astronomers have discovered two new super-Earths orbiting an ancient 11.5 billion year-old star a "mere" 13 light-years from here. One planet is in the habitable zone, prompting a researcher to wonder what kind of life could have evolved over such a long period.
For comparison, these exoplanets are 2.5 times older than Earth and only two billion years younger than the universe itself, which is about 13.7 billion years-old. If there's life on one of these planets — and that's a big if — it's been there for a potentially very long time.
And amazingly, it's "only" 13 light-years away. That makes it the closest confirmed potentially habitable exoplanet to Earth, not including Tau Ceti e, an unconfirmed planet located 11.9 light-years away. The next best bet after that is Gliese 581-d, which is 20.2 light-years away. It's also worth noting that Alpha Centauri, the closest star to our own — just 4.3 light-years away — hosts a planet, but it's parked way to close to the sun to be habitable (its year is a mere three days long).