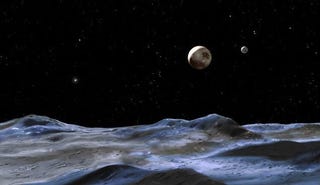 On the 23rd and 24th of January, 1930, a young astronomer working in Flagstaff, Arizona, scanned a small patch of the night sky. He was taking pictures of star positions, looking for anomalies that would signal movement somewhere at the edge of the solar system. He took the pictures then set them aside, not realizing that he'd found exactly what he was looking for: a ninth planet in the solar system.

In Search of Planets
The hunt for Pluto grew out of the search for other planets in the solar system. In the 18th Century, as the field of astronomy expanded with better and more powerful telescopes, astronomers began to scan the heavens to look for additional planets. Sir William Herschel had first observed Uranus, which was originally believed to be a star or comet, in March of 1781 as part of a larger movement by astronomers to discover new features in the solar system. After Uranus was formally identified as a planet, astronomers raced to identify others. In 1801, a new planet called Ceres was discovered in the gap between Mars and Jupiter. It was later downgraded to a new class of astronomical objects, an asteroid, but Ceres' discovery helped prompt the prediction of other planets throughout the Solar System.
As astronomers observed Uranus and its orbit, they noticed small variations: something large, and further out in the solar system, was affecting the gas giant. In 1821, astronomer Alexis Bouvard published a detailed table of Uranus's orbit. Drawing from his data, a pair of astronomers, John Couch Adams from England and Urbain Le Verrier from France independently predicted the location of a new planet. Using the data provided by Le Verrier, a German astronomer named Johann Gottfried Galle began to search for this unknown body, and on September 23rd, 1846, he observed it near where it was predicted. Neptune was the furthest planet discovered thus far, but, shortly after its discovery, astronomers began to predict that other planets lay beyond in the far reaches of the Solar System.
To many astronomers, the orbits of Uranus and Neptune seemed to indicate the existence of another body—something altering their movements around the sun. Between 1877 and 1930, a number of theories were proposed. They predicted the existence of anywhere from one to five planets beyond Neptune. However, one astronomer, Jean Baptiste Aimable Gaillot, reran calculations on the planetary orbits, and determined that these theories were put forth in error. The astronomy community largely abandoned the idea of another planet beyond Neptune. However, there were lingering optimists. One such astronomer was American William H. Pickering, who predicted a Planet O far out beyond Neptune, as well as Planets P through U, all of which were debunked. Another American, Percival Lowell, theorized the existence of celestial body he called Planet X.
Planet X
Lowell was a businessman from the Cambridge area who had fostered a life-long interest in astronomy. In 1893, he began to put his interests to use, funding an observatory in Flagstaff, Arizona. In 1905, he began searching for the solar system's 9th planet. He worked off of the original observations of Uranus and Neptune, and made assumptions based on the Titius-Bode rule, which described the relative positions of planets in the solar system. The assumption helped lead astronomers to Ceres in 1801, but had been of limited use with other planets. Using his astronomy, Lowell spent the rest of his life searching the skies for his quarry. He died in 1916, never discovering the planet he had spent years looking for.