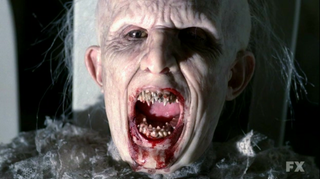 This week, the third season of the most fucked up show on cable TV ended. And while there's still plenty more American Horror Story to come, we couldn't help but take stock of all the horrors this series has wrought. And then rank them. Here is our collection of the most WTF moments from three seasons of American Horror Story.
Warning: spoilers ahead...
Now these are REAL WTF moments, not "oh no, the realtor got his penis bitten off," or "yikes, those gators are alive!" We all saw those coming. These are ranked in order, from huh, to HOLY SHIT. Some of these are truly terrible and I can't believe they got away with them, and some are just generally fantastic and exactly why we love this series.
Robot Spider - AHS: Asylum
Let's start off light. The most benign — but still batshit — WTF moment in all of AHS would probably be the robot spider that was cut out of the Asylum inmate Kyle's neck. Because there was a robot in his neck. This was never really explained, but it meant aliens. Like most things on this series, don't overthink it.
Adult Breastfeeding - AHS: Asylum
A super subtle attempt on the part of AHS to point out that the serial killer Bloody Face has Mommy issues.
Patrick's Poker Death - AHS: Murder House
Zachary Quinto and his angel-faced lover Patrick are both brutally murdered by The Rubber Man, but Patrick really gets the worst of it. For no discernible reason (other than shock) The Rubber Man rams a poker up his rectum while Patrick is dying on the floor.
Murder Santa - AHS: Asylum
Ian McShane joined the cast of Asylum as serial killer and Santa impersonator Leigh Emerson. When he wasn't tying up families with their own Christmas decorations, biting off faces and raping, he was spouting out the most ridiculous dialogue ever assigned to a mentally deranged Santa Claus. Here is a good example, "You know the difference between that Santa Claus and me? He only comes once a year." It's so insane we had to collect the entire insanity in one video.