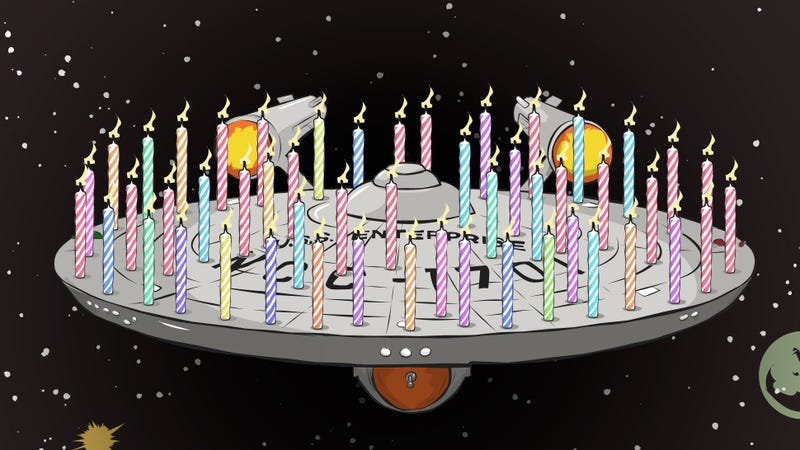 Next year marks the 50th anniversary of space opera's grandest and most ambitious media series. But will Star Trek have a 50th birthday in keeping with its proud heritage? Here are a bunch of ways that we hope Star Trek's birthday gets celebrated.
Doctor Who's 50th anniversary was a pretty wonderful event, and both Batman and Superman just had reasonably good 75th birthdays. But there's a lot of concern right now that Trek's 50th will be met with a whimper, rather than a triumphant jump to warp speed. There's a new movie in the pipeline, from director Justin Lin, but there's not even a script yet and a tight deadline to turn it around.
And more to the point, something as influential and awesome as Star Trek deserves a huge anniversary celebration. So here are some ways that CBS/Paramount — and we — could honor Star Trek next year.
Greenlight a brave new TV series
This is probably the most important thing, which is why we're mentioning it first. Star Trek began on television and its natural home is on television. An ongoing series allows for more thoughtful storytelling and deeper examination of the series' themes than any one movie could. CBS needs to realize it's sitting on a goldmine, and put Trek back on television. Or Netflix. Or Amazon, or wherever. Already, some high-quality fan-made Trek shows on YouTube, like Star Trek: Phase II, show there's a nearly inexhaustible demand for new episodes.
Support human exploration of the solar system
This is another huge one. Want to people to be excited about Star Trek again? Get them believing in the possibility of humans exploring our solar system, beyond the Moon. More than any other major science fiction universe, Trek depends on an ongoing space program for its cultural relevance. So you should write to your member of Congress or Senator and ask for more support for NASA's Orion mission, and do what you can to support Elon Musk's plans to land humans on Mars.