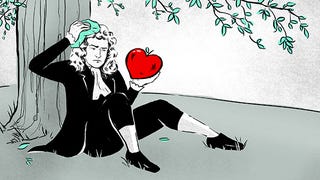 A break-up can feel like the end of the world. And almost everybody goes through these jarring transitions at some point in their romantic lives, experiencing unbearable loss, confusion and despair. Luckily, a growing number of evidence-based strategies can help you cope. We talked to the experts to find out more.
Illustration by Tara Jacoby
The truth is, our individual reactions to the end of a romantic relationship vary. They're often shaped by such factors as age, gender, level of emotional involvement, and even our attachment style.
(Image: Forgetting Sarah Marshall)
"There's a wide range of responses to breaking up and it depends a lot on the individual, the circumstances, and how we interpret the breakup," says Idaho State University psychologist Xiaomeng Xu. "For example, if the relationship had been abusive and you realize that you are now better off, you might feel fairly positive about the breakup. On the other hand if you were extremely happy in the relationship and the breakup came as a surprise, you're probably going to feel very negatively about what happened."
Post-break-up anxiety has also been linked to other negative feelings and behaviors, including the ongoing preoccupation with a former partner, extreme physical and emotional distress, unrealistic and exaggerated efforts to get back together, partner-related sexual motivations (e.g. "revenge sex"), angry and vengeful behavior, and dysfunctional coping strategies.
Monmouth University psychologist Dr. Gary Lewandowski tells io9 that people tend to experience a wide range of emotions following a break-up — including sadness, loneliness, anger, distress, and confusion. At the same time, however, he says these feelings can be accompanied by positive emotions as well, such as relief, freedom, optimism, and empowerment. Lewandowski, the professor/chair at Monmouth, is the co-founder of www.ScienceOfRelationships.com, a website that seeks to further our understanding and appreciation of relationships using research-based evidence.
Dr. Erica B. Slotter from the Department of Psychology at Villanova University agrees that break-ups can stir a complex mix of emotions, some good, some bad.
"We know that the loss of a romantic relationship is typically quite distressing for individuals," she told io9, "although most individuals do exhibit considerable resilience wherein they recover over time."
Not surprisingly, people who are dumped generally feel more distressed than the person who instigated the break-up. But as Slotter pointed out to me, it's still quite upsetting for the person who made the decision. In fact, psychologists don't tend to find too many differences in "identity disruption" (i.e. the feeling of "who am I without you" after a break-up), depending on who initiated the end of the relationship.
And dealing with that feeling of "who am I without you" is the first step of getting over a breakup.
Recognize That You've Lost a Piece of Yourself
Break-ups are known to dramatically shatter and change a person's self-concept. As couples get closer over time, an individual's sense of self often becomes increasingly intertwined with that of the other's.
(Image: Eternal Sunshine of the Spotless Mind)
And in fact, scientists have shown that long-term relationships result in interconnected memories where couples become part of an interpersonal cognitive system — and each person depends on the other, to fill in certain memory gaps. So the end of a relationship can be traumatic on a number of levels. For many people, it feels like losing a limb.