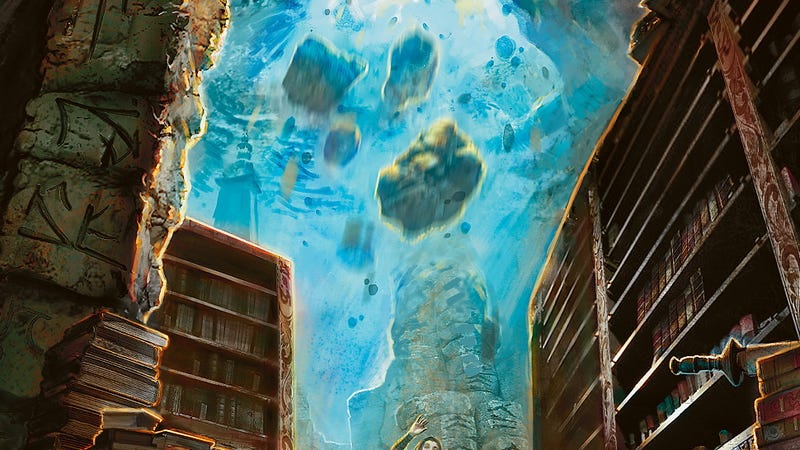 Plenty of gamemasters still use graph paper and three-ring binders to organize their role-playing campaigns, but there's an arsenal of tools available to the tech-savvy GM. I talked to a bunch of experienced GMs to find out how they use digital tools to create and track their RPG adventures.
Aside from a twisted, devious imagination, good organizational skills are a gamemaster's most important quality. Between world-building, adventure writing, linking multiple plot lines, and tracking the players and a horde of NPCs, a GM has a lot to keep straight.
Scrivener, Evernote, and Realm Works
While working on the campaign world for a Pathfinder RPG I'm running this summer, I realized Scrivener ($40, intended for organizing novels, research papers, and the like) was ideal for laying out parts of a world. I work mainly in the research folder, creating headings and sub-headings, filling in bits of text, place names, NPCs, and more. Scrivener makes it really easy to drag images into a folder, too. I started out grabbing photos of real-world mountains from Wikipedia, so as the players travel I can show them images of what the terrain looks like. Later, I'll probably borrow images from fantasy art to stand in for various NPCs and monsters. I keep the Scrivener project files in my Dropbox folder so they're accessible and up to date on all my devices.
Also worth mentioning: Scrivener has an amazing random name generator built in. You can set the ethnic origin of both first and last names, and set what letter the names begin or end with. It's easily the most robust name generator I've ever seen, and it's a perfect tool for GMs creating NPCs (I used it and this table of D100 random personality traits I devised to populate a small village in about ten minutes).
While Scrivener was the impetus for this article, none of the other GMs I talked to mentioned using it. However, there are several similar organizational tools that did come up. Manda Collis, freelance writer and editor and creator of Charisma Bonus and Roleplay Hub, told me, "I'm a huge fan of Evernote, since it syncs everything across all platforms and I can access it wherever and whenever. I have separate notebooks set up for different aspects of games, the various creatures I'll use, and so on, so it's always available no matter what device I choose to use."
Wolfgang Baur, publisher at Kobold Press and designer for the Deep Magic Kickstarter, told me he keeps Evernote open during game sessions, "to track new NPCs in case they show up again later."