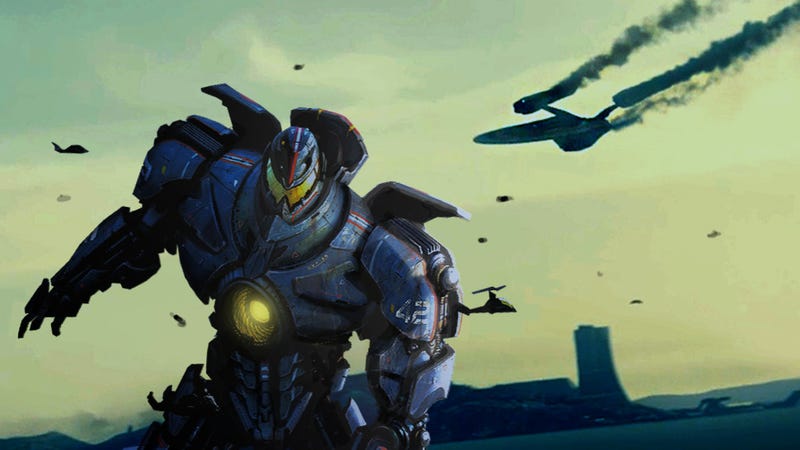 This was a good year to argue about movies. A lot of films inspired powerful reactions, either positive or negative, among audiences. Some of 2013's movies are destined to be among our all-time favorites, while others will be reviled forever. Here are the 10 best and 10 worst science fiction and fantasy movies of 2013.
Top image: John Pedigo for io9.
In particular, 2013 will remembered as the year Steven Spielberg predicted the death of the blockbuster movie, and people took it seriously. Because this past summer was a discouraging year for fans of huge-budget spectacles: It felt as though we were living in the aftermath of another writer's strike. We could have populated our list of the year's worst genre movies just with summer franchise films. (Unlike the summers of 2011 and 2012, when there were way more big pictures that were either good or great.)
So here are our picks for best and worst movies, which we arrived at after lots and lots of heated debate of our own:
Best movies of 2013
10. The Conjuring
There were a few superb horror films this year — we almost included Mama as well — but The Conjuring was the rare horror movie that was actually kind of heart-warming. Director James Wan puts a lot of energy into making you care deeply about the husband-and-wife demon-hunting team of Ed and Lorraine Warren. Plus this movie is just jam-packed with inventive, clever scares and some plot twists that wind up making total sense. It's the antidote to all those sadistic horror films where you root for the characters to die.
9. Iron Man 3
This is one film that's going to be polarizing — in particular, the handling of Tony Stark's comics nemesis, the Mandarin, is never going to sit right with fans. The ending, also, might seem a bit pat. But neither of those things touches the heart of this movie: a brilliantly emotional journey through post-traumatic stress and hubris, in which Tony Stark finds redemption by going back to basics. In a year crammed with dark, brooding superheroes, this movie really felt as though it had a personal story to tell, and told it with incredible deftness. We also loved Thor: The Dark World's brilliant comic timing and insane final set piece, a lot.
8. Byzantium
A mother-daughter vampire duo come to a seaside town, but an all-male vampire society is hunting them, in Neil Jordan's first vampire film since Interview With a Vampire. Many of Jordan's striking images will lodge in your brain after watching this movie — but so will the characters and the choices they struggle with. Saoirse Ronan and Gemma Arterton brilliantly capture the power and loneliness of being two people against the world, and this is the closest we've seen in a decade to a movie about vampires who are real people, instead of clichés.
7. This is the End
This was also a great year for apocalyptic comedies — Warm Bodies and The World's End were strong candidates for the "best" list — but even so, Seth Rogen and Evan Goldberg's raucous comedy was a fantastic surprise. A weird mash-up of "celebrities playing fucked-up versions of themselves" humor and apocalyptic hijinks, this movie absolutely should not have worked. But This is the End keeps you alternately laughing and freaking out — only to reveal a somewhat more clever take on the end of days than most serious apocalyptic movies.
6. The Europa Report
This low-budget movie about the first humans to visit Jupiter's moon Europa makes an impressive effort to be scientifically accurate and realistic — but it's also emotionally and psychologically realistic. This is a "found footage" film in which the disjointed footage really does feel like a artifact from a lost expedition. This film captures perfectly the juxtaposition between the claustrophobic "stuck in a can" feeling of being in a space capsule and the vast wonder of space all around, and how the latter helps people endure the former. One of the best hard science fiction films we've seen in a long, long time.
5. Her
Spike Jonze, director of Adaptation and Being John Malkovich, turns his gift for inventive weirdness towards examining our relationship with technology — and the result is both hilarious and disarming. Her takes place in a near future when strong artificial intelligence exists, and Joaquin Phoenix plays a recently divorced man who falls in love with the AI on his phone (voiced by Scarlett Johansson.) It could be cheesy or obvious, but Phoenix creates a complex portrait of a man moving out of emotional isolation. And Jonze uses his wacky premise to question some of our fixed assumptions about identity, sexuality and love.
4. Hunger Games: Catching Fire
The first Hunger Games movie was one of our favorite films of last year, and we did not think the sequel could match it — much less top it. But amazingly enough, the movie in which Katniss copes with the consequences of her victory is even more intense and thrilling than that victory was. Much like Iron Man 3, this is a story of a hero coping with PTSD and the weight of a victor's crown — except that this film also packs in a lot of complicated political messages about co-optation and rebellion.