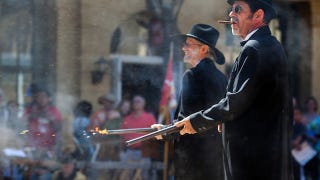 Religion and gunfire—it worked for the Boondock Saints, but one man, Porter Rockwell, made this combination a reality during the 1800s. An ardent Mormon, Rockwell resorted to violent means to defend his leaders and people, but the gunslinger also served as a U.S. Marshal and displayed a generous soft side.
Church-going gunslinger
A faithful member of the Mormon religion his entire life, Orrin Porter Rockwell clung near to Joseph Smith, acting as Smith's personal protector and friend.
Baptized into the Mormon faith at the age of sixteen and noted to be one of the first members of the church, Porter Rockwell displayed a zealous religious fervor that he often expressed with gunfire. Film buffs might see Porter Rockwell as an individual akin to Joaquin Phoenix's character Freddie Quell in the 2012 movie The Master, who defended Lancaster Dodd and The Cause with a radical fervor.
Porter forcefully protected Smith and Mormon rights, making him the enemy of a number of groups who called for the expulsion of Mormons from Missouri and those who tried to quell Mormon actives in Utah.
The legend grows
On Christmas of 1843, Joseph Smith "blessed" Porter Rockwell, stating that the man would not be harmed by "bullet or blade" as long as he did not cut his hair. This statement bore a stark resemblance to the Israelite story of Samson, and led Rockwell to braid his hair over time.
Porter Rockwell went against the words of Smith and cut his hair, at least according to a one piece of Mormon lore.
Upon seeing an elderly woman stricken with typhoid fever, an illness that left the woman bald, Rockwell cut his locks so they could be fashioned into a wig for the lady. Rockwell is also humorously remembered for his unusual war cry—the gunslinger often screamed the word "wheat" as he launched into battle.
After the Great Mormon Migration, Porter Rockwell served as a Deputy Marshal of the State of Deseret during Mormon attempts at secession under Brigham Young, and later as a U.S. Marshal and Deputy Marshal in Salt Lake City.
Rockwell did participate in 1857 war between the United States and Mormon settlers in modern-day Utah—Brigham Young sent Rockwell to slow down and annoy expeditions of troops sent by the United States.