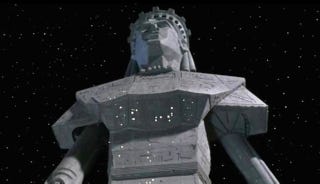 It takes tremendous skill to pilot a giant robot, and it takes genius to make them. But unfortunately, it's rare that these pilots and inventors are also blessed with any design sense and/or common sense, because there are many giant robots that end up completely preposterous. Here are more than a dozen mighty mecha whose enormous weirdness dwarfs their size.
1) Mermaid Gundam, G Gundam
The ridiculous, nation-stereotyped mecha of G Gundam could fill their own list of ridiculous giant robots (and indeed, they pretty much have). So let's take the most ridiculous Gundam as representative of the rest, and that would have to be Neo Denmark's Mermaid Gundam. Somehow I have to believe that if you wanted a giant robot that could function both on land and underwater, you could find a better design that putting a robot inside a giant metal seafood restaurant mascot costume.