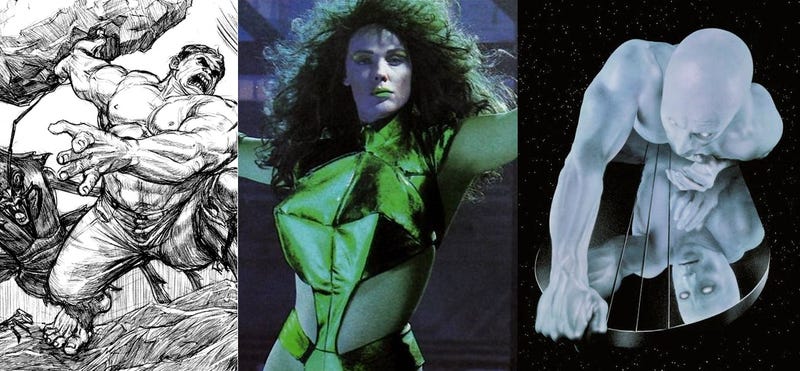 These days, Marvel has a pretty amazing track record on the big screen. Even if you toss in the films produced by Sony or Fox, most of the movies range from okay to superb. But things could have turned out very, very different. Here are 10 bizarre Marvel film projects that were in development at one point.
1) Lee Kramer's Silver Surfer
Long before Fantastic 4: Rise of the Silver Surfer, a $20 million version of the Silver Surfer nearly got made. Producer Lee Kramer, fresh off Xanadu, wanted to cast Olivia Newton-John in the lead role. Paul McCartney was signed up to do the music. Said Kramer at the time, "We're going to make an epic picture on the scope of 2001: A Space Odyssey with the kind of soundtrack that that film had, only using contemporary rock and roll." And Stan Lee drafted an outline for the film, that borrowed heavily from early 1970s blaxploitation films. At one point, the Surfer gets captured by a tall man in fancy clothes named Sweet-Daddy Wisdom, who says, "Ol Sweet-Daddy's gone and caught himself the world's choice prize. He's captured the ultimate honky."
2) Dazzler
Silver Surfer wasn't the only disco-era Marvel production that failed to get off the ground. When the sonic-powered mutant first debuted, she was supposed to have a movie franchise, with music from Casablanca Records, hot off Casablanca's success with Thank God It's Friday. The Dazzler film would have starred Bo Derek, and studios were in a frenzied bidding war, until Derek insisted her husband had to direct. Jim Shooter wrote a film treatment, in which KISS fights the Village People, Rodney Dangerfield plays four separate characters, and fire-clad warriors ride into battle on unicorns. At one point, Dazzler, the Avengers and Spider-Man travel forward in time to a dystopian New York, where Cher and Donna Summer are rival witch-queens, battling for control over the city. The entire film treatment is here.
3) Menahem Golan's Spider-Man
There were many, many Spider-Man films in the pipeline in the years before Sam Raimi got his hands on Spidey — but the weirdest had to be the one that Menahem Golan, of the Cannon Group, had in mind. Golan, who gave us the supreme cult classic The Apple, misunderstood the basic concept of Spider-Man. He thought the character was a giant human-tarantula hybrid with eight hairy legs. In one of Golan's pitches, Peter Parker gets turned into Spider-Man by the evil Dr. Zork. In another, the hairy eight-legged Spider-Man fights mutants in an underground laboratory. Director Joseph Zito said the producers "didn't really know what Spider-Man was. They thought it was like the Wolfman."