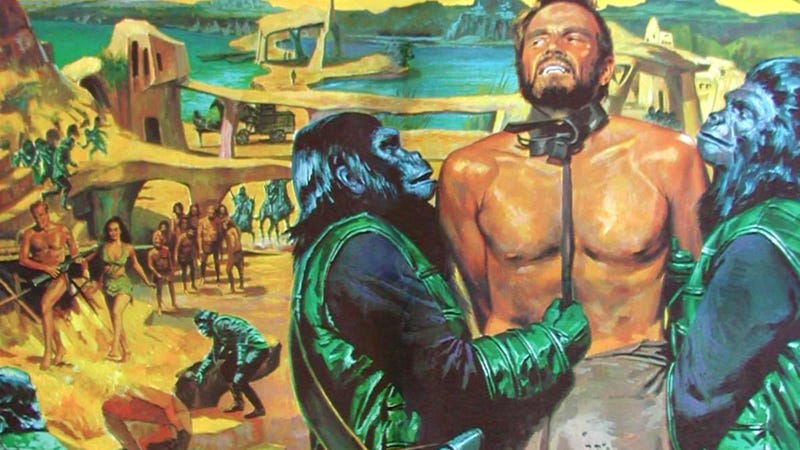 Evolution may be one of the most controversial scientific ideas in recent history, but it sure is boring to watch it happen in real life. That's why science fiction stories adhere to these 10 very special rules for evolution, just to make a long, complicated process into something totally rad.
1. There is a "next stage" of evolution and experts know what it's going to be.
Here's the deal, people. It's no fun to talk about how evolutionary changes are the result of adaptation to the environment because first of all what the hell are you talking about. Second of all, we are making an apolitical movie and we don't want any of this "inconvenient truth environment" stuff. That's why those guys in lab coats are staring at something in a microscope and saying, "It's the next stage in evolution!" Evolution is just like a story, and scientists have spoilers about the ending. Usually the "next stage" involves an ability to light things on fire using the power of your mind, or maybe turning into a room-sized throbbing brain.
2. You can de-evolve!
Evolution is not a series of random mutations in response to Al Gore, as we've already established. Which is why I can use this gun or drug or maybe high-energy particle beam to turn you into a chimp (or maybe a dinosaur if you are a goomba). Also, there is also the very real possibility that if you are too lazy or watch too much TV that your offspring will de-evolve by becoming stupider. Because when it's going "forward," evolution naturally pushes Homo sapiens towards cultural refinement and intellectual sophistication. Other animals not so much. Stop asking why sharks don't make operas even though they have been evolving for millions of years longer than we have.
3. Life can be "seeded."
We can seed the galaxy with our DNA so that no matter what the environmental conditions are, and no matter what life already exists on each planet, the results will be humanoids. Just toss out your DNA onto a barren world with some kind of egg timer gene so that at exactly the right moment you'll get the perfect form of life: an ape that walks on two legs.