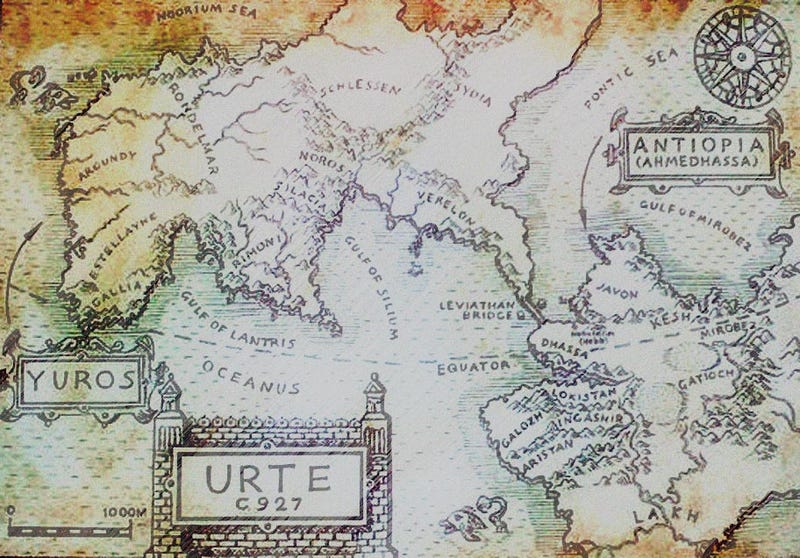 Lately, one of the big stories in science fiction and fantasy publishing has been the British invasion. A number of British publishers have come to the States, including Orbit Books, Angry Robot, and now Jo Fletcher Books, an imprint of Quercus. We talked to editor Jo Fletcher about why British publishers are coming to America.
Top image: Map from Mage's Blood by David Hair.
So how is the expansion to the US going so far?
Surprisingly well — [or maybe] not surprisingly, [since Quercus] put an awful lot behind it. I've been very agreeably surprised both by the support from the booksellers and indeed from the from the reviewers. I've got two books in this first month and then one book a month for the rest of this year. And then there will be one or two books, most months [next year]. And it's been fun picking the ones that we really think will work in America. But to be honest... there doesn't seem to be such a great divide between Britain and America [for science fiction and fantasy] as there seems to be with some other forms of fiction.
What do you mean?
I mean there aren't that many books that I don't think would only work in American or only work in Britain. I think readers are open to new experiences. And, as I say, the reaction, especially to Mage's Blood [by David Hair], has been absolutely terrific. I couldn't have asked for a better launch book.
Why are so many British publishers coming to America right now? And why are there so many smaller imprints coming out of the U.K.?
I think it's pure economics. The book industry in Britain is not great at the moment. We're struggling through the recession with very poor sales. So obviously we're looking to see where they can make money, and America is five times the size [of] the market in the UK. So it does seem to me that if you're a small nimble company that you can do this much easier perhaps than the bigger boys. If you're a big company setting up in America, it automatically becomes a much bigger thing.
But I think it's got as much to do with all the lists. All of the major lists have their own identities. I'm sure you can look at a book just as well as me and say, "Oh, that's an Ace book," or "Oh, that's a Harper book." The smaller lists, like me and like Angry Robot particularly, are doing a lot of different things, rather than one particular thing, and I think that's helping to make people [notice]. You can't buy one Jo Fletcher book and say, "Oh, I don't like what she's doing." Because the next one is going to be completely different.
I'm just curious as to why there seem to be so many new publishers and imprints starting and expanding in the UK recently.