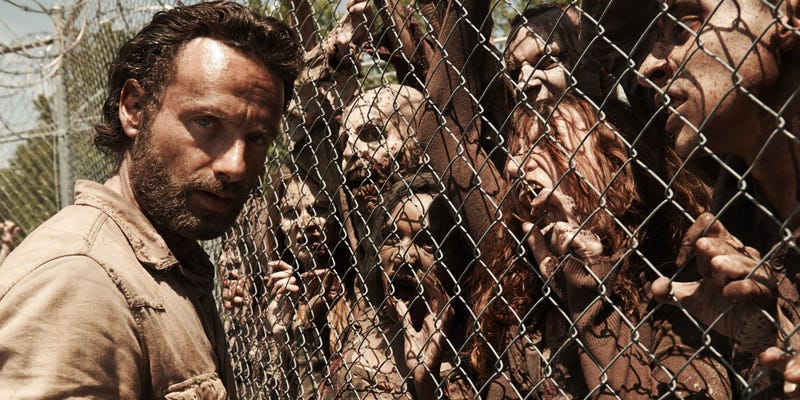 When the zombie apocalypse strikes, will you be ready? How can you prepare now to survive the undead onslaught? We got the inside scoop from the Green Light Anti-Zombie Squad, a group that's dedicated to protecting you from zombie attacks. Here are 10 practical tips on how to survive an encounter with the walking dead.
With less than two weeks until the US presidential election, director Joss Whedon decides to toss in his two cents. But what starts as a Mitt Romney anti-endorsement quickly morphs into a parody of hyperbolic political ads. Which candidate will put us on the fastest path to the zombie apocalypse? And which candidate…
This Saturday night, Syfy's TV movie Zombie Apocalypse will unleash the ZOMBIE TIGER on the masses, and Syfy has released the first image of this undead beast. That's right — zombie tiger doesn't give a sh-t!
Filmmaker Ross Ching created this short film, Running on Empty, imagining the usually traffic-clogged L.A. without an auto in sight. It's a masterfully simple piece of cinematic trickery — and a perfect look at L.A. after the zombie apocalypse. [Slashfilm]
At some point in humanity's future, our military forces are going to have to fight alien invaders, angry robots or hordes of zombies. Ultimately, a bunch of infantry grunts are going to have to hold the line against the onslaught. And they're going to need guns. Awesome guns. What have the arms merchants of the world…
It's an inescapable fact that there are lot of zombies in the world. So what better way to practice killing the undead than to simulate it in game form? With enough training, we can easily overcome hordes of shambling brain eaters and turn nearby shopping malls into survivalist fortresses. Check out io9's guide to…
We all like to fantasize about how awesomely we'd perform in the face of a disaster like a plane crash or zombie invasion. While you may imagine yourself pulling off Chuck Norris spin kicks and living off the land, a Ka-Bar knife and survival training will only get you so far. To get through a disaster alive, you…