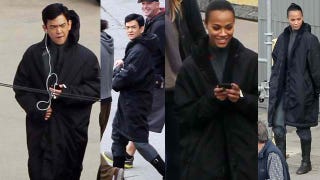 Take a look at the above photos of John Cho and Zoe Saldana on the set of the new Star Trek sequel, via TrekMovie. Check out what they're wearing under the regulation black Bad Robot parkas (which all castmembers wear on set, to cover up their costumes.)
This fascinating behind the scenes look at Avatar is like a crash course in motion-capture, in which James Cameron breaks down his favorite scene in the film and shows you how it was created. And there's tons of new footage.
Two posters have been released from upcoming space epics. One is a skin-peeling look into the dark, horrific world of Pandorum. The other shows us the alien creature that Zoe Saldana will be transformed into in James Cameron's Avatar.
We caught up with Zoe Saldana, who plays Uhura in J.J. Abrams' Star Trek. While she couldn't reveal too much about her work in Trek and James Cameron's Avatar, she did give a little bit of a behind the scenes look into both. Plus she addresses whether the skirts in the new Trek will be shorter than in the original…
James Cameron's Avatar, coming in 2009, is about ecology and greed, says star Sigourney Weaver. She talked to Premiere magazine about what it's like to work with the world's most micro-managing director. And she explained why she's not a science fiction actor. Click through for some highlights, plus an update from…