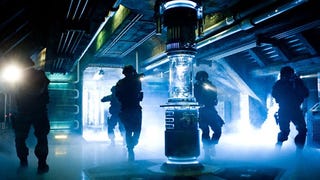 Click to viewLast year, Hollywood's writers went on strike for 14 weeks, and genre television took tremendous damage as a result. But movies didn't emerge unscathed, either - we just won't see the fallout until this year.
Now that the strike is almost certainly over, Battlestar Galactica could be back in production as soon as March, according to a handy checklist posted by TV Guide's Michael Ausiello. Lost may be able to shoot as many as six extra episodes this season, and Smallville could have five more. But (brace yourself) Chuck…
The writers strike is forcing executives to actually consider some of the rash decisions they've made. Case in point, the Justice League movie. Before the holidays there were announcements of cast members, chatter about the shooting location, a script that needed some work, and even rumblings from the Christian Bale/…
The writers strike will really start to take its toll on television this winter. Many fall shows won't ever wake up from the winter hibernation, and everyone will get sick of game shows and reality TV offerings. So, we've begun working on the io9 time circuits and blowing the dust out of our flux transistors…
Eliza Dushku may spend a lot of time channeling Summer Glau in Joss Whedon's new show, Dollhouse. Joss tells SFX magazine that Eliza will be "playing a whole host of different personalities, including a total, childlike naif." In other words, expect to see her doing an impression of River from Firefly. Joss corrected…
Here's a video showing Buffy / Firefly creator Joss Whedon and Battlestar Galactica remaker Ronald D. Moore dumping half a million pencils into a box that's being sent to Hollywood fatcats to help illustrate the writer's strike. Here's an idea: let's cut down the entire forest and ship reams of blank white paper to…
The aliens from Close Encounters of the Third Kind may make a cameo appearance in the fourth Indiana Jones movie. Steven Spielberg is avoiding CGI in favor of puppets, and he decided to pay tribute to the 30th anniversary of Encounters. There's retro, and then there's crazy retro. [MovieHole]
The Hollywood writers'…
The Bionic Woman is the latest victim of the Hollywood writer's strike—and not a minute too soon. This week's dating-and-dictators episode landed the ailing series almost at the bottom of the Nielsen ratings, a fall cushioned only by a worse performance by The CW's Gossip Girl. Will Bionic Woman return post strike?
The apocalypse came to a small town, and nobody noticed. But that could change this spring. CBS' nuclear apocalypse drama Jericho barely escaped out-and-out cancellation thanks to a mail-in campaign involving bags of nuts. And this spring, it may be the only game in town, thanks to the writers' strike.

Jericho season…
TV Guide's Brian Ausiello has an awesome chart of how long your favorite TV shows can stay on the air during the writer's strike. Bottom line: Heroes has four eps left, Chuck has six remaining and Smallville has a whopping eight. But poor Bionic Woman only has three more episodes in the can.
I'm not the only person calling for a rewrite of The Bionic Woman. Over at Ti-Faux, Dan calls for more Katee Sackhoff/Bionic Woman #1 (yes!) and less little sister (double yes!!), among other sensible suggestions.