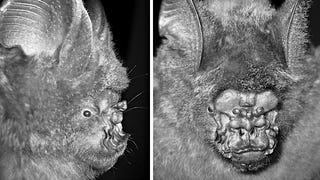 Meet Hipposideros griffini, who's also known as Griffin's leaf-nosed bat of Vietnam. This newly discovered species possesses a unique configuration of leaf-like protrusions on its schnoz that may help with echlocation. And if not, this creature deserves a medal for evolving one of most ridiculous mammalian noses out…
Even if you've been to the Catacombs of Paris or have gone spelunking in Brooklyn's abandoned subway lines, there's still a wealth of underground places to be explored. Here are some of the world's less welcoming manmade tunnels and grottos.
Military psy ops aren't limited to leaflets, propaganda broadcasts, and Korean pop music. In the past, the US military has played on their opponent superstitions of vampires, ghosts, and astrology. Here are some strange examples.
When you have a superhero as iconic as Batman, it's unsurprising that he'll be bootlegged to kingdom come. Bat Blog has a collection of illicit Bat-art from all over Asia. Check out vintage Vietnamese comics and Batman fighting aliens in Hong Kong.
Hong Kong (comic) Hong Kong (comic) Hong Kong (comic) …
This is sort of a dream sequence, sort of a hallucination — but mostly, this funky-ass scene from Jacob's Ladder is 100 percent awesome. Tim Robbins has a brain-melt to the tune of James Brown's classic jam, "My Thang." Spoilers...