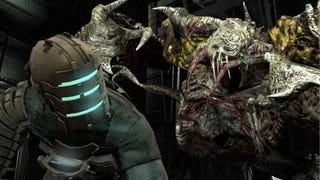 Director D.J. Caruso revealed his plans for his Dead Space film, and he's calling it a prequel. "You have have the whole sort of brainwash-y/Scientology thing, and ultimately the Necromorphs." A Necromorph/Scientology tie-in? You've got our attention. [MTV]
Milla Jovovich is back and kicking ass as Alice, along with a few old friends like Claire Redfield (Ali Larter), the K-Mart girl, a few Alice clones and the big bad Umbrella Corp villain Albert Wesker. Check out the action.
We're totally calling it: the Halo movie is never happening. When Steven-freakin-Spielberg says he wants to make a film, and Microsoft still says no, it's doomed. Here are 10 other video game films you'll see before you ever see Halo.
Sheesh, the new Street Fighter: The Legend Of Chun-Li doesn't want to use the movie's greatest asset, Kristen Kreuk. The new heads-in-bodies poster leaves much to be desired. Come on, where's the leg?
Dystopian-future video game Bioshock will soon be a movie from Universal Studios, directed by Gore Verbinski (Pirates of the Caribbean). Finally, a video game movie that has a chance at holding the audience's attention. According to Variety, this is the biggest video game-to-movie-deal since the abortive Halo film. At…
Movie deals aren't just for comic books that nobody's read any more — now they're for video games that nobody's played as well. Fox has optioned a science fiction game still in development, Zero-G, about a new "never before seen" superweapon that destroys a major U.S. city. It sounds like it's coming a bit late to the…