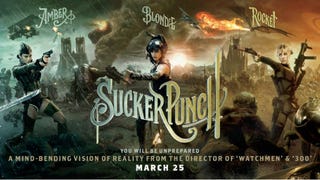 The premise for Sucker Punch might be a bit muddled, but the imagery grabs your face by the ears! This latest banner is no exception, Zack Snyder's army of ladies is almost dancing through this surreal war-torn world.
The reboot of Beauty And The Beast is under way, and check out the look Mary-Kate Olsen is working for her role as the Princess of Darkness (we're guessing.) Call it scary soul-swallowing chic, plus THE BEAST.
Vanessa Hudgens is joining up with Harrison Ford, Brendan Fraser and Keri Russell, in a modern day NYC retelling of Beauty and The Beast. Hudgens will be the fair maiden, in Beastly.