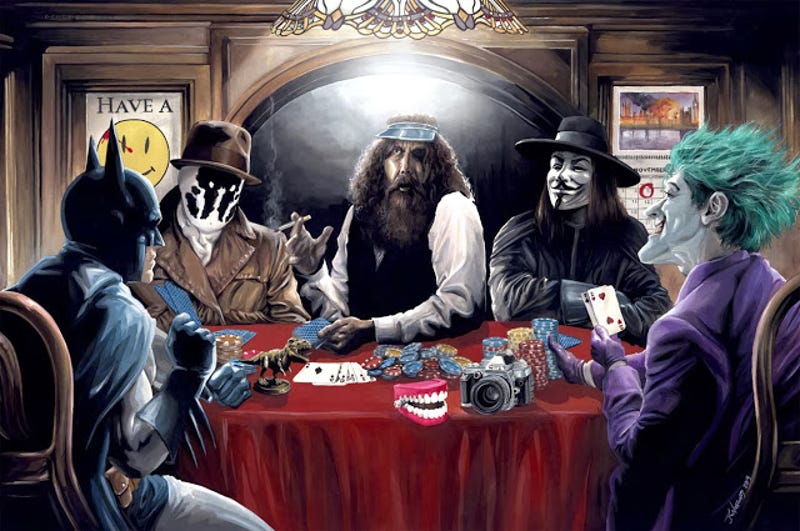 Alan Moore deals in some of the comic book characters he's created and written for in The Killing Bluff, a painting by J.K. Woodward.
Next week sees the release of Cloud Atlas, the movie version of one of the most famously unfilmable books of all time. But Cloud Atlas isn't the first supposedly unfilmable book to make it to the screen. There have been several classic novels that everybody thought couldn't be captured on film — until somebody did it.…
V For Vendetta writer Alan Moore and artist David Lloyd have admitted in interviews that they're tickled that the titular character's Guy Fawkes has become a protest standard. But Channel 4 went one step further and took the hirsute master to Occupy London to meet the masquerade. Alan Moore's chilled with John…
There are a few storylines that you see in movies over and over again. This is generally not a bad thing; they work. But even if every movie that took up these tried-and-true plots were perfect, repetition can get, well, repetitive. With just a little tweak, however, they could be fantastically interesting tales.
While the collected population of the internet seems to be wetting itself in excitement about the trailer for Zach Snyder's version of Watchmen, one man is more than cynical about the whole exercise. In fact, he thinks that any comic book adaptation is suspect, and he should know, having survived the experience three…
Owen Paterson designed the bleak cityscapes of the Matrix movies and V For Vendetta, and now he's creating the candy-colored neopolises of Speed Racer. Not to mention concept cars with wheels that can turn a full 180 degrees. We tracked him down in Sydney, Australia and asked him about the visual influences behind…
You may have read Alan Moore's work in Watchmen, Swamp Thing, V For Vendetta, or The League of Extraordinary Gentlemen, but do you know much about the guy behind some of the greatest comics of the turn of the millennium? AlterTube has posted a 2003 documentary about him, which you can watch after the jump. If you…
Must-read graphic novels are futuristic classics that shouldn't be missed. Of course, not every must-see is perfect. That's why we've rated them 1-5 on the patented "crunchy goodness" scale.

Title: V For Vendetta
Date: 1982-1988

Vitals: It's fascist future England time! Only a carnival-masked psychopath can save us…